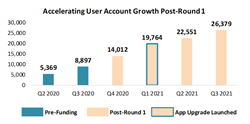 Boston, MA. (PRWEB) November 11, 2021
Beanstox now has 3,000 individuals as investors in the Beanstox Fintech business alongside Kevin O'Leary. The current round marks the second successful offering by Beanstox, an App that automates wealth building for everyday Americans. Financing proceeds help further develop our team, strengthen our technology platform, and enhance marketing. Beanstox now has over 26,000 user accounts, +190% since September 2020.
"Now is a great time for new digital businesses, including Beanstox, to raise capital because Covid accelerated demand for digital everything," said Kevin O'Leary, Beanstox Chairman and co-owner.
"What is strategic about crowdfunding? Beanstox now has 3,000 investors who can be brand ambassadors and motivated sources of product input, adding value to the business in which they invested. The crowdfunding also provides Beanstox with capital to support growth." said Connor O'Brien, CEO and co-owner.
For more information on how to invest in the Beanstox business alongside Kevin O'Leary, please see startengine.com/beanstox.
Kevin O'Leary is a strategic advisor and paid spokesperson for StartEngine, which owns the funding portal hosting the offering at StartEngine.com/Beanstox.
About Beanstox, Inc.
Beanstox (https://www.beanstox.com) provides investors access to online saving and investing using an automated internet-based investment advisory services app. Our philosophy is "Seriously Simple InvestingTM". Serious: because we believe investing is not a game, it's a thoughtful path to personal financial stability and freedom. Simple: because we believe that lowering barriers to saving and investing will help more investors to start saving, and when people understand their investments, they are more likely to stick with it for the long term. Investing: because just saving is not enough; we believe in the power of compound returns. Clients can open an account with as little as $100 and set up an automatic recurring investing plan. Beanstox does the rest, including automated, personalized investing, automated dividend reinvestment and automated rebalancing.
For more information please contact:
Louise Anne Poirier, CFO
hello@beanstox.com
Beanstox Inc. ("Beanstox") is an SEC registered investment adviser and has arranged for brokerage services to be provided by DriveWealth LLC., a registered broker-dealer and member of FINRA/SIPC. DriveWealth is not affiliated with Beanstox.
Investments in securities: Not FDIC Insured • No Bank Guarantee • May Lose Value
Investing in securities involves risks, and there is always the potential of losing money when you invest in securities. Before investing, consider your investment objectives and risk tolerance levels and Beanstox's charges and expenses. The information provided herein is for illustrative purposes only and does not constitute personalized investment advice, recommendations or solicitations to hold, buy or sell any investment or security of any kind. Beanstox's internet-based advisory services are designed to assist clients in achieving investment goals. They are not intended to provide comprehensive tax advice or financial planning with respect to every aspect of a client's financial situation and do not incorporate specific investments that clients hold elsewhere. For more details, see our Form ADV Part 2A and Part 3 CRS and other disclosures.
All images and return figures shown are for illustrative purposes only and are not actual customer or model returns. Actual returns will vary greatly and depend on personal and market conditions. Past performance does not guarantee future results.