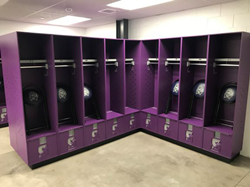 We have nearly 60 buildings on campus and almost every one of them has Scranton Products partitions. We also love the quality of the Tufftec Lockers. The quality is just fantastic--both products have great longevity, resist vandalism and never rust. --Jim Devers, Facility Manager.
SCRANTON, Pa. (PRWEB) April 09, 2019
The new Kevin P. Quinn, S.J., Athletics Campus has selected Scranton Products' lockers and restroom partitions for the latest phase of the University of Scranton's renovation project.
Named after the Jesuit college's 25th president, the new sports complex located on 11 acres alongside Broadway Street was designed to serve as the school's home field for soccer, lacrosse, field hockey, baseball and softball Division III NCAA games. In addition to three NCAA-regulation all-purpose turf fields, the newly-launched facility included bleacher seating, a 4,000-square-foot field house with team locker rooms and training room, parking, a community basketball court and children's play area.
"We built a sports complex that would be the envy of neighboring institutions and the pride of our entire community," said Jim Devers, the athletic complex's project manager, who previously served as the associate vice president for facility operations at the University of Scranton for 33 years. "The new center will serve the University's student body, our team sports, intramural players and everyone living nearby. We believe the campus will not only enhance our recruitment efforts, but also create a place for our local neighborhood children to meet and play sports."
The new field house was also developed to serve as the central hub for all the different fields. Among its many amenities are five men and women's locker rooms featuring Scranton Products' Tufftec® lockers and Hiny Hiders® restroom partitions.
"We have nearly 60 buildings on campus and almost every one of them has Scranton Products partitions, said Devers. "The quality is just fantastic. They have great longevity, resist vandalism and never rust. We knew exactly what we were receiving when we placed them in the new field house. Throughout my entire time at the college, I'm not aware of a single malfunctioning locker or partition that had to be replaced."
Equally impressive to Devers was Scranton Products' custom services, which designed the field house lockers with the university's squib "S" logo and purple signature color. The new Tufftec lockers also resist bacteria, odors, mold and mildew because of their easy-to-clean, non-porous surfaces.
Like the lockers, Hiny Hiders are also available in a variety of colors and styles that never rust or need painting. In addition, unlike metal partitions, Hiny Hiders offer superior resistance to dents, scratches, graffiti, corrosion, mildew and moisture. Another benefit is that they clean easily and are naturally resistant to bacteria, while carrying a 25-year warranty.
"Scranton Products has never failed us," adds Devers. "They have been a staunch supporter of this institution for decades and always come through when needed. We couldn't have a more reliable partner in the continued advance and upgrade of this university."
To learn more about Scranton Products' Hiny Hiders® partitions and Tufftec® lockers please visit http://www.scrantonproducts.com or call 800-445-5148.