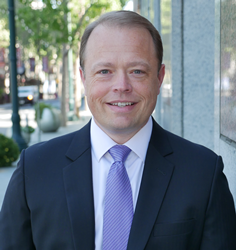 "NES Financial is composed of seasoned and innovative professionals with outstanding client services."
SAN JOSE, Calif. (PRWEB) May 21, 2019
NES Financial, a Silicon Valley FinTech company providing technology-enabled solutions for efficient back- and middle-office administration of complex financial transactions, announced today the appointment of Kevin Walkup as Chief Operating Officer and President of its DataOps division.
"Kevin is going to elevate NES Financial's award-winning technology to the next level," said Michael Halloran, Chairman and CEO of NES Financial. "He is an innovative and strong tech executive with a proven track record, having successfully delivered record-breaking results on a global platform. Kevin is the perfect executive with a sharp 'roll up your sleeves' focus to lead our DataOps division."
With more than 27 years of IT and equity market experience, Mr. Walkup is a seasoned senior executive with an impressive, proven track record of transforming global technology companies. Having been at Dell, Samsung SDI and Sanmina, he has run several multi-billion dollar businesses and delivered outstanding results.
"NES Financial is composed of seasoned and innovative professionals with outstanding client services," said Mr. Walkup. "I am honored to be joining NES Financial to help create more meaningful progress in the fund administration world — while solving larger problems through the use of our next-generation, fully-integrated fund administration platform. We're going to deliver real answers and thought-leadership to this space and establish competitive separation for our customers."
The new DataOps division at NES Financial combines award-winning technology for fund administrators and "funds of funds." Data operations services from NES Financial will help fund administrators see a significant decrease in costs associated with their financial reporting and analysis activities by the end of year one, while reducing error rates and shortening the timeline to deliver useable data.
About NES Financial
NES Financial is a specialty financial administrator which serves sectors characterized by high administrative complexity, increased transaction security needs, and challenging regulatory compliance requirements. The company's purpose-built solutions streamline the administrative processes of these markets — simplifying specialized financial transactions, curtailing fraud and abuse and helping ensure the utmost in security, transparency and regulatory compliance through each step of an investment's life cycle.
With its Silicon Valley DNA, proprietary fintech platform and over 15 years of specialty financial administration leadership, NES Financial has defined best practices in each of the markets it serves — from 1031 exchanges and EB-5 visa funding, to private equity and the landmark Opportunity Zones program. Today, NES Financial services more than 290 funds, administers over $20B annually, and has worked with more than 700 EB-5 projects. For more information, please visit nesfinancial.com.