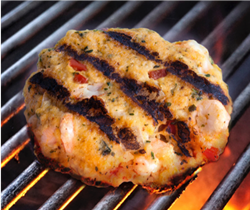 SALISBURY, Md (PRWEB) December 03, 2019
Handy Seafood, the oldest seafood processing company in the United States, is the first to reach 125 years of age. Handy is celebrating this milestone achievement by highlighting products developed throughout the years. Handy's November innovation focuses on the Shrimp Burger.
There are plenty of beef, turkey, veggie and salmon burgers on the market. But Handy noticed that the #1 seafood in America was not offered in a burger format. After many vigorous hours in the Handy R&D test kitchen, Handy launched their first Shrimp Burger.
A good shrimp burger should be first and foremost about the shrimp. Premium Key West Shrimp from the U.S.A. goes into our one-of-a-kind burger. Shrimp is all you will taste giving a real unique texture, mouthfeel and flavor.
We kept the seasonings simple so that it complements the sweet shrimp flavor but doesn't overpower it - red bell peppers, yellow onion, lemon juice to accentuate the sweetness of the Key West Pink shrimp, parsley, mustard and seafood seasoning.
The core challenge was getting the burger to hold together since it was loaded with large pieces of shrimp. After testing and reformulating, Handy's R&D team decided it needed a combination of shrimp puree to help bind the burgers, in addition to larger, bite-size chunks.
Handy Shrimp Burgers are unlike any other burger out there. Made in the U.S.A. with sweet Key West Pink Shrimp, full of protein and can be grilled, baked or sautéed in minutes. Next time you start the grill, maybe think about adding one of Handy's Shrimp Burgers to it.
Handy Seafood is a family-owned company with 125 years of quality seafood processing. Products include soft shell crabs, crab meat, crab cakes, seafood specialty items, oysters and artisanal fish. http://www.handyseafood.com. To view previous Handy innovations, go to: https://www.handycrab.com/news