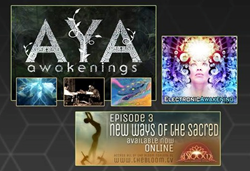 Our success in 2014 was mainly due to our partners and fans around the world. We hope to keep on inspiring media makers and trendsetters in 2015 and beyond. - Julian Reyes, CEO of Keyframe-Entertainment
San Francisco, CA (PRWEB) December 22, 2014
Keyframe-Entertainment's multiple projects and collaborations in 2014 reflect the company's growing network and trajectory. Created by Julian Reyes, Keyframe fosters growth for Visionary Art and DJ culture by supporting, promoting, and financing cutting edge projects. Keyframe began the 2014 year with the launch of its Keyframe-Cinema; an online web resource that allows filmmakers to share their movies with fans, film buffs, and festivals through film screenings. The film screening platform launched with "Electronic Awakening" and "The Bloom Series," and soon went on to add Rak Razam's "Aya: Awakenings" and Mitch Schulz's "DMT: The Spirit Molecule" to its catalog. "Aya: Awakenings" is a narrative documentary by Rak Razam that dives into the world and visions of ayahuasca plant medicine and shamanism. The film successfully screened across the US in early 2014.
"Electronic Awakening," A.C Johner's ethnographic documentary on the spirituality of Electronic Dance Music, was also made available in international VOD format through Cinecliq.
In June, Keyframe also became the Executive Producer of the "Dark Prophet" comic book. Written, Directed and Produced by Evette Vargas, "Dark Prophet" is a multi-media film project whose comic book component premiered at the 2014 Comic Con conference. The "Dark Prophet" 2.5 Virtual Reality comic book featurette debuted at NY Comic Con in October 2014.
In the fall, the Electronic Music Alliance also launched the EMA-Global music label. Created by members Julian Reyes of Keyframe-Entertainment and Myagi of Pop And Lock Records, the music label showcases the talents of emerging Electronic Music producers in the genres of Trance, Tech-House, Breaks, Downtempo, and Techno, among others. The label launched with tracks "Kazurakus" by MetaTek and "FlashFWD" by Derek Ryan featuring Jiin Christou.
Throughout the year, Keyframe also hosted two events as part of its Transformational Culture Forum series. The first event, held at NextSpace, explored different facets of the Transformational Culture, featuring Flow Arts and Poi, Visionary culture professionals, Electronic Music production, local vegan organic food, and Transmedia marketing strategies. The second event, held at Ecosystm, focused on permaculture, featured advocates, educators, and community organizers discussing the benefits of education and bringing communities together to collaborate. Keyframe's support of permaculture was further highlighted by its sponsorship of David Sugalski aka The Polish Ambassador's permaculture tour, "Pushing through the Pavement." The 32-citywide "Pushing Through the Pavement" tour was made possible through a successful Indiegogo crowdfunding campaign, which surpassed its $35,000 goal by $8760. The tour converged live music, local organizations, permaculture groups, sustainability educators, and gardeners to bring the know-how and skills to put the principles of permaculture into reality.
In October, Jamaica 'Jai Ma' Stevens and Keyframe-Entertainment launched the "ReInhabiting the Village: Co-Creating our Future" Kickstarter campaign. "ReInhabiting the Village" is a multi-media community resource project co-created by an alliance of visionary partners sharing their knowledge and experience. Derived from holistic living principles, the book—the project's main component—aims to showcase the knowledge of over 40 selected contributors of diverse backgrounds, such as Artists, Economists, Permaculture Experts, Facilitators, Educators, Visionaries, Natural Builders, Event Producers, Healers, Indigenous Elders and Thought Leaders, Ecologists, Technology Developers and Community Organizers. Chapters will include in-depth topics such as Inhabiting the Urban Village, Community Land Stewardship/EcoVillages, Technology and Media, Art and Culture, Holistic Event Production, Living Economy, and Whole Systems Project Management and Governance Models. The Kickstarter campaign garnered over 400 supporters and $31,683 in pledges, successfully surpassing its goal.
In 2015, Keyframe plans to focus on production. This will include adding films to the Keyframe-Cinema film screening platform, publishing the "ReInhabiting the Village" book, launching Keyframe's own music label, and continuing to manage and market artists Wiggzaro, Wisdom of Shankara, Zenotope and Psycloscope, whom Keyframe began working with in 2014. To learn more about Keyframe's services, visit http://keyframe-entertainment.com/.
About Keyframe-Entertainment:
Keyframe-Entertainment is a media network that creates global positive change by inspiring, informing, and entertaining through Transformational films, Visionary Art, and Electronic Music. Keyframe produces, finances, and distributes cutting edge projects in order to generate growth for its partners and strengthen community-building worldwide. Keyframe was launched in 2004 as a music label and artist management company and has since expanded its scope to include consciousness films and events. Keyframe-Entertainment is the Executive Producer of "Electronic Awakening" and the creator of Keyframe-Cinema, an online service that allows Transformational filmmakers to share their work with fans, film buffs, and festivals.