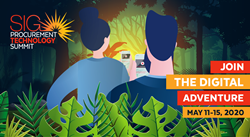 This Summit is unique among procurement industry events because it combines forward-thinking, executive thought leadership with gamification aspects and prize giveaways to create a state-of-the-art digital experience.
JACKSONVILLE, Fla. (PRWEB) May 06, 2020
 SIG, the premier membership organization for sourcing, procurement, outsourcing and risk executives, today announces that executives from CrowdStrike, GEP and SAP Ariba will headline its Procurement Technology Summit. The event will take place entirely online from May 11 to May 15.
Delivering the opening keynote address on Monday, May 11, is Santosh Nair, Vice President of Technology at GEP. He will join SIG CEO and President Dawn Tiura for a fireside chat to discuss how the Coronavirus pandemic has impacted procurement and supply chain, how technology can help in times of crisis, and what procurement and supply chain leaders should be considering as we work through this pandemic and beyond.
Mr. Nair leads GEP's Digital Transformation practice, primarily in procurement and supply chain domains. His specialties are digital transformation, cloud computing, strategic planning, organizational design, source-to-pay business transformation, operations cost reduction, new product development, technology enablement and user adoption.
On Wednesday, May 13, Chris Haydon, who leads SAP Procurement Solutions, will take part in a fireside chat with Ms. Tiura to discuss how the COVID-19 crisis has put the spotlight on the need for agile procurement and applying the lessons learned from this crisis to reimagine and reinvent supply chains.
Serving since 2017 as senior vice president of customer value, Mr. Haydon was formerly SAP Ariba's chief strategy officer. Currently he focuses on customer success while defining end-to-end spend management solutions that drive differential business outcomes and leads SAP's procurement product strategy, portfolio and product roadmap.
For the closing keynote address on Thursday, May 14, Shawn Henry, President, CrowdStrike Services and Chief Security Officer at CrowdStrike, will share stories from the frontlines of cybersecurity in the wake of destructive attacks. This session will focus on cybersecurity principles that all corporate leaders should know, the current cyber threat-scape, the importance of safeguarding the supply chain, business versus technical risk, and how your organization can prepare for and prevent an attack.
Mr. Henry retired as FBI Executive Assistant Director in 2012, overseeing half of the FBI's investigative operations, including all FBI criminal and cyber investigations worldwide, international operations, and the FBI's critical incident response to major investigations and disasters. During his 24- year career, he held a wide range of operational and leadership roles in four FBI Field Offices and FBI Headquarters. He currently serves on the Strategic Advisory Committee of the Global Cyber Alliance.
"This pandemic has made it clear that procurement leaders need greater agility and transparency in their supply chains to take proactive, preventative measures against future disruptions," said SIG CEO and President Dawn Tiura. "The advanced procurement technology that you can experience at the Procurement Technology Summit will give your business a competitive edge and mitigate supplier risk up and down the supply chain."
The Procurement Technology Summit's theme is "Join the Digital Adventure" because it enables attendees to explore the unknown and provides them with the necessary knowledge and tools that procurement professionals need to overcome the challenges ahead. This Summit is unique among procurement industry events because it combines forward-thinking, executive thought leadership with gamification aspects and prize giveaways to create a state-of-the-art digital experience.
Additionally, when SIG member companies register to attend, they can use their allotted Summit "seats" for a $1,000 credit to enroll in SIG University's Certified Sourcing Professional (CSP) program. The CSP program is SIG University's longest-running certification program and is recognized as the most well-rounded curriculum available for sourcing professionals.
The interactive digital environment of the SIG Procurement Technology Summit will feature keynote speakers, breakout sessions with live Q&A, and a virtual Innovation Hall with platform demonstrations that showcase how artificial intelligence, machine learning, and robotic process automation are transforming procurement and driving better outcomes for businesses.
For more information, visit the Procurement Technology Summit website for the full agenda, FAQs and registration pricing information.
About SIG  
SIG, https://sig.org/ is a membership organization that provides thought leadership and networking opportunities to executives in sourcing, procurement and outsourcing from Fortune 500 and Global 1000 companies and the advisors who serve them. SIG is widely known as a forum for sharing "next" practices and thought leadership through live networking events, virtual forums and a comprehensive online SIG resource center (SRC), which was developed by and for professionals in sourcing and outsourcing. The organization is unique in that it blends practitioners, service providers and advisory firms in a non-commercial environment. SIG is also the parent organization for SIG University, a one-of-a-kind certification and training program for professionals and executives seeking deep expertise in sourcing and governance for themselves or their teams, as well as Future of Sourcing, which provides unrivaled digital content for the opinion-formers and decision-makers at the heart of the outsourcing space.