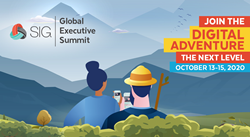 These keynotes are leading by example when it comes to future-proofing procurement. They will share their insight, best practices and lessons learned so we can all emerge stronger.
JACKSONVILLE, Fla. (PRWEB) October 06, 2020
Sourcing Industry Group (SIG), the premier membership organization for sourcing, procurement, outsourcing and risk executives, today announces that senior leaders from Coupa, The Hackett Group, SAP Procurement Solutions and WNS-Denali will headline its Global Executive Summit October 13 to 15.
"To move past this crisis that has disrupted the business world, challenged global supply chains and created new economic uncertainties, we must listen and learn from those who have exhibited true leadership," said Dawn Tiura, President and CEO of Sourcing Industry Group. "These keynotes are leading by example when it comes to future-proofing procurement. They will share their insight, best practices and lessons learned so we can all emerge stronger."
The Summit is free for buy-side professionals who work in sourcing, procurement, risk, supply chain or a related industry. Below are the keynote sessions that will take place from October 13 to 15.
Smarter Together: It's Procurement and Finance's Time to Lead
Cost control, risk management, and digital advancements are key priorities for both CFOs and CPOs. Coupa's CFO Todd Ford joins SIG CEO and President Dawn Tiura for a fireside chat. They will talk about three things that Procurement and Finance can do together to lead their companies to success.
What it Takes for Procurement Transformation - Fireside Chat with a Practitioner
Baber Farooq, Senior Vice President of Procurement Product Strategy with SAP Procurement Solutions, will host a fireside chat with Melissa Mohesky-Schmidt, Principal/President of Innovative Insights Group LLC. Baber and Melissa will discuss what it takes to plan for investments in hardware/software to support your sourcing and procurement implementations and share key learnings on bringing stability and security during this time of disruption and supply chain volatility.
The Power of Storytelling
Now – more than ever – your organization needs to know your story and how you can support business growth, recovery and transformation. Greg Anderson, Senior Vice President of Sales in North America at WNS-Denali, and Josh Brammer, a storytelling expert and marketing coach, will help you improve your communication through the power of clear stories. Leaders who communicate clearly help their teams win the day and thrive in these unique times.
Perspectives on Sourcing/Manufacturing Reshoring Strategies
Across industries, U.S. companies and their customers are coming to terms with the one-two punch of China trade tariffs and the months-long shutdown due to COVID-19. The dependence on a single country to produce for the world is driving more organizations to seek alternatives sources of supply for direct materials and third-party manufacturing partners. Senior leaders of The Hackett Group will share their perspectives on how companies can reduce their dependence on China to diversify their production and supply chain capabilities.
Registration is Free for Procurement Professionals
SIG member companies and buy-side procurement practitioners can register to attend the digital event for free on the Global Executive Summit website. The format of the event will take place virtually from October 13 to 15 for a few hours per day, so attendees can fulfill their daily work obligations while engaging in the event remotely.
The Summit's interactive digital environment will feature keynote speakers, breakout sessions with live Q&A, and a virtual Innovation Hall with platform demonstrations that showcase how the latest procurement solutions drive better outcomes for businesses.
In May, SIG hosted the Procurement Technology Summit with an 86% satisfaction rating among attendees. More than 1,100 people from over 400 companies across the world attended the event virtually.
SIG's Global Executive Summits bring together senior-level executives from Fortune 500 and Global 1000 companies, including C-suite executives, vice presidents, directors, senior analysts and managers. For more information, visit the Global Executive Summit website.
About SIG
Sourcing Industry Group (SIG), https://sig.org/ is a membership organization that provides thought leadership and networking opportunities to executives in sourcing, procurement, and outsourcing from Fortune 500 and Global 1000 companies and the advisors who serve them. SIG is widely known as a forum for sharing "next" practices and thought leadership through live networking events, virtual forums and a comprehensive online SIG resource center (SRC), which was developed by and for professionals in sourcing and outsourcing. The organization is unique in that it blends practitioners, service providers and advisory firms in a non-commercial environment. SIG is the parent organization for SIG University, a one-of-a-kind certification and training program for professionals and executives seeking deep expertise in sourcing and governance for themselves or their teams. SIG's digital flagship publication, Future of Sourcing, provides unrivaled digital content for the opinion-formers and decision-makers at the heart of the outsourcing space.