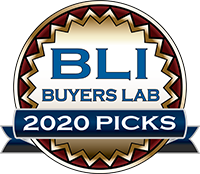 FAIRFIELD, N.J. (PRWEB) January 07, 2020
Keypoint Intelligence - Buyers Lab (BLI), the world's leading independent provider of testing services and analytical information to the document imaging industry, today announced its Pick award recipients in the Printer/MFP category, with the accolades going to stellar devices from Epson, Fuji Xerox, HP, Ricoh, and Sharp. Awarded twice annually for office equipment, Picks acknowledge the products that gave the best performances in Buyers Lab's extensive suite of lab tests in the previous six months.
The BLI Winter 2020 Printer/MFP Pick awards go to the following exceptional devices*:
EPSON ECOTANK ET-2760
Outstanding Personal Color Inkjet All-in-One
EPSON ECOTANK ET-4760
Outstanding SOHO Color Inkjet All-in-One
FUJI XEROX DOCUPRINT 4405 D
Outstanding Printer for SMBs
HP COLOR LASERJET ENTERPRISE M751 SERIES
Outstanding Color Printer for Mid-Size to Large Workgroups
HP COLOR LASERJET PRO MFP M479 SERIES
Outstanding Color MFP for Small Workgroups
HP LASERJET ENTERPRISE M507 SERIES
Outstanding Printer for Mid-Size Workgroups
HP LASERJET PRO MFP M428 SERIES
Outstanding MFP for Small Workgroups
RICOH IM C300 SERIES
Outstanding Color MFP for Mid-Size Workgroups
SHARP MX-B476W
Outstanding MFP for Mid-Size Workgroups
SHARP MX-C304W
Outstanding Color MFP for SMBs
*NOT ALL PRODUCTS ARE SOLD IN ALL REGIONS.
Please visit the Keypoint Intelligence website to read the full press release.
Stay tuned for our announcements of more prestigious awards!
WEDNESDAY, JANUARY 8: Copier MFP, Printer/MFP, and Scanner Line of the Year awards
ABOUT KEYPOINT INTELLIGENCE - BUYERS LAB
Keypoint Intelligence is a one-stop shop for the digital imaging industry. With our unparalleled services and unmatched depth of knowledge, we cut through the noise of data to offer clients the independent insights and responsive tools they need in those mission-critical moments that define their products and empower their sales.
For over 50 years, Buyers Lab has been the global document imaging industry's resource for unbiased and reliable information, test data, and competitive selling tools. What started out as a consumer-based publication about office equipment has become an all-encompassing industry resource. Buyers Lab evolves in tandem with the ever-changing landscape of document imaging solutions, constantly updating our methods, expanding our offerings, and tracking cutting-edge developments.
ABOUT BUYERS LAB PICK AWARDS
Buyers Lab Picks stand alone in the industry and are hard-earned awards as they are based on rigorous testing, including an extensive durability assessment and evaluation of key attributes such as usability, image quality, and value. Each product that passes our lab test earns Buyers Lab's Recommended or Highly Recommended seal and our Certificate of Reliability, with the best performers qualifying as Pick contenders.
SOCIAL MEDIA
Follow Keypoint Intelligence - Buyers Lab on Twitter
Connect with Keypoint Intelligence - Buyers Lab on LinkedIn
CONTACT
Deanna Flanick
+1 973-797-2145
deanna.flanick@keypointintelligence.com