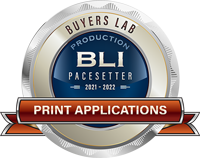 Our Pacesetter Awards in Production Print Applications are aimed at finding the digital print manufacturing vendors that best support their customers in terms of driving applications to success.
FAIRFIELD, N.J. (PRWEB) April 20, 2021
Keypoint Intelligence, the world's leading independent provider of testing services and analytical information to the document imaging industry, today announced the recipients of its Buyers Lab (BLI) PaceSetter Awards in Production Print Applications. Based on research conducted in the North American market, these accolades celebrate those OEMs that best support their customers on reducing costs and/or increasing business based on different printing applications.
The winners for 2021-2022 are:
Electronics for Imaging, Inc.
BLI 2021-2022 PaceSetter in Production Print Applications: VDP Enabler
Konica Minolta Business Solutions U.S.A., Inc.
BLI 2021-2022 PaceSetter in Production Print Applications: Output Variety
Xerox Corporation
BLI 2021-2022 PaceSetter in Production Print Applications: Market Expansion
"Our Pacesetter Awards in Production Print Applications are aimed at finding the digital print manufacturing vendors that best support their customers in terms of driving applications to success," said German Sacristan, Director of On Demand Printing at Keypoint Intelligence. "This trio of winning companies helps buyers communicate more effectively via print, which ultimately contributes to the growth of digital printing."
EFI ENABLES VARIABLE DATA PRINTING GROWTH
"Variable data printing is very powerful and relevant not only for the digital print market but marketing and communications, too," Sacristan said. "Following the right steps of segmentation and profiling to build a personalized communication campaign is imperative, at the same time software vendors need to make it easier for PSPs to acquire, use, and learn the technology."
All the user needs to get started with Fiery FreeForm Create is the master document with static content, along with a spreadsheet that contains the variable information. Users can drag-and-drop elements like text, images, and barcodes. Fiery FreeForm Create is free for designers and provides an easy path to getting started and learning VDP, which will contribute to the potential growth of digital printing and more relevant and effective communications.
KONICA MINOLTA PROVIDES OUTPUT VARIETY GALORE
Being able to print in a larger variety of substrates increases the number of applications that a PSP can produce and sell. The Konica Minolta AccurioJet KM-1e with UV inks enables users to print on an array of media that other cut-sheet technologies cannot, while greeting cards, gift cards, hotel room keys, and even ID badges can be printed on texture film or PVC. Other applications could be printed on synthetics, PET adhesive, polypropylene, and polyethylene.
"Art applications printed on canvas sizes up to 23x29.5" can be output on the KM-1e," Sacristan said. "Additionally, the KM-1 has an offline laser-cutting system specifically built for the B2+ sheet size that is capable of producing different types of sleek finishes. Also important is that Konica Minolta supports its customers' success with business development and a customized professional service program."
XEROX COLOR EMBELLISHMENTS PROGRAM DRIVE OPPORTUNITIES
Color embellishments can capture the attention of an audience and create a perception of value for a brand, a product, or even a person or an event. Often underutilized, color embellishments are a great way to better communicate and market a message—and Xerox is doing its part.
"To help PSPs grow and print buyers achieve more effective communication, Xerox not only has the technology to produce color embellishments such as metallic, white, clear, fluorescent, and a range of extra gamut colors but also has the program to drive market expansion," Sacristan said. "The Xerox Genesis program supports PSPs in promoting, selling, designing, and pricing color embellishments with tools, training, and an array educational and marketing materials. Additionally, Xerox facilitates a network of PSPs that have color embellishments capabilities."
ABOUT KEYPOINT INTELLIGENCE
For 60 years, clients in the digital imaging industry have relied on Keypoint Intelligence for independent hands-on testing, lab data, and extensive market research to drive their product and sales success. Keypoint Intelligence has been recognized as the industry's most trusted resource for unbiased information, analysis, and awards due to decades of analyst experience. Customers have harnessed this mission-critical knowledge for strategic decision-making, daily sales enablement, and operational excellence to improve business goals and increase bottom lines. With a central focus on clients, Keypoint Intelligence continues to evolve as the industry changes by expanding offerings and updating methods, while intimately understanding and serving manufacturers', channels', and their customers' transformation in the digital printing and imaging sector.
ABOUT BLI PACESETTER AWARDS
Based on exhaustive questionnaires, in-depth interviews, and a proprietary rating scale, Buyers Lab PaceSetter Awards recognize those document imaging OEMs that have shown market leadership in a variety of categories, including technologies, services, and key vertical markets.
SOCIAL MEDIA
Connect with Keypoint Intelligence on LinkedIn
Follow Keypoint Intelligence on Twitter
CONTACT
Deanna Flanick
+1 973-797-2100
deanna.flanick@keypointintelligence.com