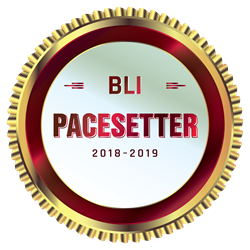 The ability to serve the needs of vertical-market customers takes more than just top-notch document imaging hardware.
FAIRFIELD, N.J. (PRWEB) October 17, 2018
Keypoint Intelligence - Buyers Lab (BLI), the world's leading independent evaluator of document imaging software, hardware, and services, today announced the winners of the first-ever BLI PaceSetter awards for the Legal, Manufacturing, Logistics, and Retail vertical markets. Based on in-depth research conducted with participating document imaging OEMs and Keypoint Intelligence's expert analysis of each vendor's offerings for the target market, these awards recognize the companies that offer the most impressive portfolios of hardware devices, software solutions, and technical and professional services for customers in the categories studied.
The recipients of these BLI PaceSetter awards for 2018–2019 are:
BLI PACESETTER 2018–2019 FOR LEGAL
Konica Minolta Business Solutions U.S.A., Inc.
Ricoh USA, Inc.
BLI PACESETTER 2018–2019 FOR MANUFACTURING
Lexmark International, Inc.
BLI PACESETTER 2018–2019 FOR LOGISTICS
Toshiba America Business Solutions, Inc.
BLI PACESETTER 2018–2019 FOR RETAIL
HP Inc.
"The ability to serve the needs of vertical-market customers takes more than just top-notch document imaging hardware," said Jamie Bsales, Director of Solutions Analysis for Keypoint Intelligence - Buyers Lab. "All of the winners here have that part of the equation covered quite well. Being a leader in the field also requires a deep understanding of the challenges and pain points that customers in a given industry face day in and day out, coupled with the ability to deliver solutions and services to address those challenges. Our analysis showed that these industry pacesetters can do exactly that."
KONICA MINOLTA AND RICOH SHARE TOP HONORS FOR THE LEGAL MARKET
In Keypoint Intelligence's analysis, Konica Minolta and Ricoh wound up in a statistical tie for the legal vertical. "In addition to its legal-specific software portfolio that features class-leading solutions from noted industry partners, Konica Minolta demonstrated industry leadership by offering IT services and support specifically tailored for their legal customers large and small," explained Bsales. "Moreover, the bulk of the company's software and services offerings are available in both the direct and dealer channels."
"Ricoh, too, offers an in-house IT services division with experts well-versed in the software legal customers are using every day," Bsales added. "And when it comes to e-discovery solutions, Ricoh offers a complete end-to-end solution that includes digital forensics, cloud-based e-discovery, and managed review services."
LEXMARK STANDS OUT FOR MANUFACTURERS
"The manufacturing vertical presents unique challenges when it comes to professional services and support, but getting the hardware right is an especially tall order," said Bsales. "Lexmark impressed us with its breadth of MFP and printer offerings that can handle special needs such as creating RFID tags or GHS labels. And Lexmark devices are engineered to withstand the rigors of harsh manufacturing environments."
TOSHIBA UNDERSTANDS LOGISTICS
"Whether it's a dedicated shipping facility or the warehouse operations of a wider business, identifying and tracking all of the boxes that come in and go out is a Herculean undertaking," Bsales noted. "Toshiba's unmatched portfolio of label printers, along with its traditional MFPs and printer plus specialty hardware such barcode readers, offers logistics customers a customizable system to tackle any task."
HP SHINES IN RETAIL
"Several of the participating OEMs had strong showings in our study when it came to offerings for retail customers," said Bsales. "HP edged out the others thanks to a hardware portfolio that extends beyond document imaging to include other relevant offerings, including servers and PCs, point-of-sale systems, digital signage and more."
Stay tuned for our next award announcement!
Thursday, October 18: 2019 Wide Format Picks
ABOUT KEYPOINT INTELLIGENCE - BUYERS LAB
Keypoint Intelligence is a one-stop shop for the digital imaging industry. With our unparalleled tools and unmatched depth of knowledge, we cut through the noise of data to offer clients the unbiased insights and responsive tools they need in those mission-critical moments that define their products and empower their sales.
For over 50 years, Buyers Lab has been the global document imaging industry's resource for unbiased and reliable information, test data, and competitive selling tools. What started out as a consumer-based publication about office equipment has become an all-encompassing industry resource. In a landscape that's ever evolving, we change with it.
ABOUT BUYERS LAB PACESETTER AWARDS
Based on exhaustive questionnaires, in-depth interviews, and a proprietary rating scale, Buyers Lab PaceSetter awards recognize those document imaging OEMs that have shown market leadership in a variety of categories, including Document Imaging Security, MFP Platforms & App Ecosystems, Mobile Print, and key vertical markets.
SOCIAL MEDIA
Follow Keypoint Intelligence - Buyers Lab on Twitter
Connect with Keypoint Intelligence - Buyers Lab on LinkedIn
CONTACT
Deanna Flanick
+1 973-797-2145
deanna.flanick(at)keypointintelligence.com