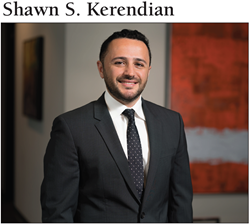 I have had to prove myself in the probate field, where most attorneys are twice my age
Los Angeles, California (PRWEB) May 17, 2017
The Los Angeles and San Francisco Daily Journals' Top 40 Under 40 has selected Shawn Kerendian, Principal of Keystone Law Group, P.C., as one of California's leading lawyers of 2017 under the age of 40. This is a great honor as only 20 attorneys are chosen from Southern California, and Shawn was only 1 of 2 attorneys chosen in the field of probate, trust and estates.
Shawn has been practicing law for almost 10 years since graduating from Loyola Law School, Los Angeles, and founded Keystone Law Group, P.C. as he saw an available niche for a boutique firm that specializes in probate, trust and estate litigation. Shawn presently oversees seven attorneys in Los Angeles, with a new San Francisco office close on the horizon. Having handled complex matters where the estate or trust was valued at over $50 million, Shawn's substantial experience contributed to his ultimate selection by the Daily Journal.
"I have had to prove myself in the probate field, where most attorneys are twice my age," says Kerendian. "Although I interned for a real estate and business litigation firm during law school, my wills and trusts course drew me to the probate practice area. After starting my career in estate planning, I quickly realized I was more interested in the litigation side of trusts and estates."
The Los Angeles and San Francisco Daily Journal are the nation's leading daily legal newspapers. Their readership is comprised of California lawyers, including general counsel of many California companies. The Top 40 Under 40 is an annual listing of California's most influential lawyers, highlighting the state's rising legal stars.
The Top 40 Under 40 was published on April 12, 2017, and an exclusive write-up highlighting Shawn's experience and legal background can be seen by clicking here.
About Keystone Law Group, P.C.: Keystone Law Group, P.C. is a Los Angeles law firm with an exclusive focus on probate, trust and estate litigation and administration. With eight attorneys, the firm has handled many complex probate cases, which has helped the firm's attorneys earn public recognition. Keystone Law Group, P.C. represents trustees, executors, administrators, beneficiaries, heirs, creditors, guardians and conservators in all matters related to probate, trusts and estates. For more information on Keystone Law Group, P.C., visit http://www.keystone-law.com.