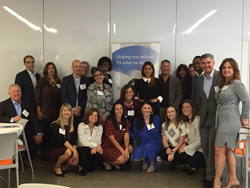 BOSTON (PRWEB) October 18, 2018
The Hennessy Report, a free podcast created by Keystone Partners, a leading career management and leadership development consulting firm, in conjunction with the Northeast Human Resources Association (NEHRA), celebrated one year of in-depth, dynamic conversations with the nation's leading HR executives.
The Hennessy Report discusses critical issues impacting business success and emerging trends impacting the HR sector. Key topics addressed during the 2017/2018 series include leadership transparency, workplace diversity, and talent acquisition.
"HubSpot has always been on a mission to help organizations grow better, and people are a big part of that equation. The Hennessy Report gave me the opportunity to talk about how technology and innovation are disrupting how traditional HR is done, and to learn from other guests on how we can grow and better ourselves," said Katie Burke, Chief People Officer at HubSpot, who appears on episode 15.
"We spend much of our time trying to come up with some sort of ethical decision-making framework to define gray areas in behavior but we don't spend nearly enough time on preparing folks to act effectively on the ethical concerns that they already perceive," stated Mary Gentile, Founder of Giving Voice to Values, who appears on episode 17. "Discussing these issues on the podcast spurs broader conversations and collaboration around many of the new challenges that HR professionals face."
"We launched a forum for the HR community and couldn't be happier about our influence a year later," added Dave Hennessy, Senior Vice President of Keystone Partners and Host of The Hennessey Report. "For decades, Keystone Partners has consulted with the top leaders in HR. Now, we have been able to provide listeners access to these top executives and gain perspective from different industries."
Tracy Burns, CEO of NEHRA added, "The Hennessy Report has established itself as a tremendous resource for HR professionals, providing candid conversations about real issues impacting companies and the profession."
Since the launch, the Hennessy report has conducted 22 interviews with executives that include Beth Grous, Chief People Officer at TripAdvisor, Ginger Gregory, EVP and Chief Human Resources Officer at Biogen and Paul Lesser, Head of Talent Acquisition at Fidelity Investments. Listeners can find archived copies of the podcast at Keystone Partners' website (http://www.keystonepartners.com) and through SoundCloud, iTunes, and Google Play.
About Keystone Partners
Keystone Partners is a leading career management and leadership development consulting firm headquartered in Boston, Massachusetts. Keystone works with organizations in New England, the Research Triangle, and around the world to efficiently and effectively address their career management and development needs.
Keystone Partners' divisions include Keystone Associates, which provides comprehensive career management services through executive level; Essex Partners, a premier career consultancy exclusively for senior executives; and Camden Consulting Group, leadership and talent management experts who help leaders and their organizations learn, develop, grow and thrive. Keystone Partners is also a founding partner of Career Partners International. For more information, please visit http://www.keystonepartners.com.
About Career Partners International
Founded in 1987, Career Partners International is a leading provider of Outplacement, Career Management, Executive Coaching and Leadership Development services from more than 350 offices in over 50 countries. Employers around the world trust Career Partners International's local market experts to provide the best possible outcomes for employees across Canada, the United States, Latin America, Europe, Middle East and Africa, and Asia Pacific regions. Keystone Partners represents Career Partners International in New England and the Research Triangle.
About Northeast Human Resources Association
Founded 30 years ago and with more than 2,000 members, NEHRA is the largest, most influential professional HR organization in the Northeast. NEHRA's goal is to help HR professionals Connect, Grow and Thrive by providing relevant and timely educational programs, access to tools and resources, and offering a variety of opportunities to network with peers.