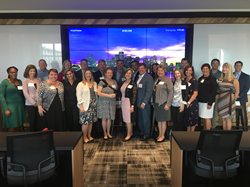 BOSTON (PRWEB) September 17, 2019
The Hennessy Report, a free podcast created by Keystone Partners, a leading career management and leadership development consulting firm, in conjunction with the Northeast Human Resources Association (NEHRA), celebrated two years of insightful conversations with the nation's leading HR executives.
The Hennessy Report connects listeners to senior HR executives throughout the U.S. who discuss critical issues impacting business success and emerging trends impacting the HR sector. Key topics addressed during the 2018-2019 season include the importance of people strategy to business strategy, employee engagement, inclusion, values, and culture.
"Rapid7 was delighted to host the 2nd Anniversary celebration of The Hennessy Report and share our new headquarters with a broader community. Given that our space was designed to foster community, engagement, collaboration, and optimize individual and team productivity, The Hennessy Report gave me the opportunity to talk about how our core values are tightly wound into everything that we do, how we have scaled our culture globally, and how our workspace reflects that," said Christina Luconi, Chief People Officer at Rapid7, who appears on episode 9.
"The richness of communication and the quality of engagement you get from using video conference can really help when you are trying to get a dispersed, global organization to move in the same direction," stated Jo Deal, CHRO at LogMeIn, who appears on episode 35. "The Hennessy Report is the right gateway to discuss how technologies, such as AI, can remove points of employee friction and enhance interpersonal dynamics, driving better corporate effectiveness and creating a happier place to work. After all, engagement and ultimately, high performance is best achieved when employees and leaders alike understand their roles, are clear on expectations, and know how they fit into the bigger picture."
"We launched The Hennessy Report two years ago and are thrilled with how the podcast has evolved and are grateful to our incredible guests," added Dave Hennessy, Senior Vice President of Keystone Partners and Host of The Hennessey Report. "We are pleased to share their personal stories and ideas on the changing workplace landscape."
Tracy Burns, CEO of NEHRA added, "The Hennessy Report is a valuable resource for HR professionals at every level; it provides an engaging 'insider' perspective of the continually evolving role of HR to an organization's success."
Since the launch, The Hennessy Report has conducted over 40 interviews with executives that include Lisa Kelly-Croswell, SVP and Chief Human Resources Officer at Boston Medical Center, Patty McCord, author, Powerful: Building a Culture of Freedom and Responsibility, Mike Nicholson, Chief People Officer at Precision BioSciences, Michelle Strader, Chief People Officer at Zaloni, and Kim Scott, author and founder of Radical Candor.
Keystone Partners service offerings include outplacement, executive coaching, leadership development, retirement, and career reinvention. Keystone Partners delivers services on a national and international basis through its partnership with Career Partners International.
Listeners can find all episodes and transcripts of the podcast at Keystone Partners' website (http://www.keystonepartners.com) and listen via SoundCloud, iTunes, Google Play and iHeartRadio.
About Keystone Partners
Keystone Partners, a Silver Oak Services Partners portfolio company, is a leading career management and leadership development consulting firm headquartered in Boston, Massachusetts. Keystone works with organizations in New England, Chicago, the Research Triangle, and around the world to efficiently and effectively address their career management and development needs.
Keystone Partners' divisions include Essex Partners, a premier career consultancy exclusively for senior executives; Keystone Associates, which provides comprehensive career management services through executive level; Camden Consulting Group, leadership and talent management experts who help leaders and their organizations learn, develop, grow and thrive; and Kensington, which also delivers exceptional leadership development, assessment, and career transition services. Keystone Partners is also a founding partner of Career Partners International. For more information, please visit keystonepartners.com http://www.keystonepartners.com.
About Career Partners International
Founded in 1987, Career Partners International is a leading provider of Outplacement, Career Management, Executive Coaching and Leadership Development services from more than 350 offices in over 50 countries. Employers around the world trust Career Partners International's local market experts to provide the best possible outcomes for employees across Canada, the United States, Latin America, Europe, Middle East and Africa, and Asia Pacific regions. Keystone Partners represents Career Partners International in New England, Chicago, and the Research Triangle.