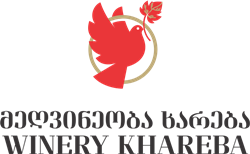 NEW YORK (PRWEB) February 25, 2020
New York, NY, February 25, 2020 - Winery Khareba, a quality Georgian winery whose foundation is based on ancient traditions combined with progressive winemaking, proudly announces its participation in this year's VINEXPO. The company will be represented by Chief Winemaker, Vladimer Kublashvili. Khareba is seeking to expand distribution in the Tristate area during a time when 'alternative' wine regions are on the rise.
Following its 2018 launch the Western market, Khareba has made it a strategic priority to build a strong, permanent distribution network in the U.S. The award-winning winery is comprised of 4,000 acres, four wineries, 21 indigenous grape varieties, and approximately 50 different SKUs. Wines are made using both traditional and modern methods (i.e. ageing in French Oak barrels as well as a traditional qvevri, native to Georgia), but all embody the diverse, unique qualities of Khareba's terroir. The wines that will be poured at VINEXPO include:

Krakuna White (SRP: $14.99)
Rkatsiteli White (SRP: $14.99)
Tsitska Qvevri White (SRP: $26.99)
Mtsvane Qvevri White (SRP: $26.99)
Saperavi Red (SRP: $13.99)
Saperavi Classical Red (SRP: $14.99)
Saperavi Reserve Red (SRP:$29.99)
Khareba Aged Red (SRP:$29.99)
Aladasturi Qvevri Red (SRP:$29.99)
Otskhanuri Sapere Qvevri Red (SRP:$29.99)
Kindzmarauli Sweet Red (SRP: $15.99)
"Winemaking in Georgia is evolving. My main focus is adapting to these changes," says Kublashvili. "For the company's future prospects, it is important to develop a variety of products, such as sparkling wines and biodynamic wines in order to be relevant in today's wine world."
Wine trade and press are invited to attend the walk-around tasting from 10:00 a.m. to 6:00 p.m., and are encouraged to stop by to meet with Vladimer. To schedule a trade or press appointment, please email Cristina Coari at ccoari@colangelopr.com.
About the Winery Khareba:
Founded in 1995, Winery Khareba (http://winery-khareba.com/en) has always prided itself on ancient traditions, with an end goal of cultivating the finest wines using both traditional and modern techniques. Since its inception, the winery has expanded its holdings from 300 hectares to 1,500 hectares, with one major winery (Terjola) in the Imereti region and the other three in the Kakheti region. Currently, Winery Khareba cultivates 21 grape varieties in 7 micro zones, producing over 40 different wines consisting of premium wines; appellation of origin wines; aged wines; proprietary table wines; dry and semi-dry sparkling wines; and qvevri wines.
The company is particularly active in maximizing their presence in the international market, with distribution networks in almost every European country, the most strategic wine markets in Asia, and now select markets of the United States, via a broker. After such success in their home country and abroad, the Winery Khareba is ready to make a bigger imprint on the American market, and raise overall awareness in the U.S. of Georgian wine, the oldest wine culture in the world.
About Vladimer Kublashvili:
Born in Western Georgia, Vladimer grew up with a passion to see the world, prompting him to take up his country's most treasured practice: winemaking. In 2004, Vladimer graduated from the Agricultural University of Georgia with a degree in Oenology. That same year, he became a student of the faculty master's program. In 2006, after becoming a Master of Oenology, he began working as a specialist for Winery Khareba. Five years later, Vladimer was made Chief Winemaker of all wineries owned by Khareba. The company has played a key role in shaping him as a professional. Over the past decade, Vladimer has earned international accolades, as well as earning another critical title: Head of International Sales for Khareba. He describes Khareba as a company where 8,000 years of traditional wine making and 21st-century innovation come together.
About Georgian Winemaking:
Georgia, once part of the Soviet Union, has been producing unique wines since 6,000 BC, making it the cradle of viticulture. In 2013, UNESCO recognized Georgia's traditional 'qvevri' (large clay vessels) winemaking as "essential to humankind's cultural heritage."