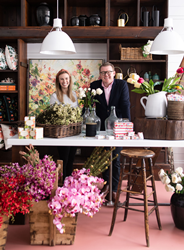 "It's expanding the idea of retail – the art of retail," says Kibler & Kirch owner Jeremiah Young.
BILLINGS, Mont. (PRWEB) May 18, 2021
With Montana snowflakes still falling in early April, abundant blooms began popping up in downtown Billings in the form of Jeremiah Young's new limited-edition home décor shop, Kibler & Kirch Presents The Flowerie. Open through July 31, 2021, at 102 North Broadway in Young's historic Stapleton Building, which also houses his Kibler & Kirch interior design firm and Stapleton Gallery, the blossoming establishment is Billings' first pop-up shop and the launch of the Kibler & Kirch Presents concept, a planned series of themed temporary shops offering "an evolving, ever-changing retail environment," Young says.
Filled with everything floral for the home – and as ephemeral as the flowers it celebrates – The Flowerie is chockablock with real and artificial blooms ("and I defy you to tell the difference," says Young of the standout everlasting examples he's stocked), as well as apothecary, candles, books, paper goods, pillows, fabrics, rugs, art, all kinds of vessels and baskets, "and some great little pieces upholstered in flowers," he says. "We searched high and low for things that really spoke to us. People tend to think of temporary anything as cheap, but the shop has the same focus on quality we've always had at Kibler & Kirch. And presentation is paramount. I'm wildly obsessive about presentation in a retail setting – as much as I am in a home setting."
The idea for The Flowerie was in part inspired by a flower-themed art show Young had done at his Stapleton Gallery. "That show was just remarkably beautiful – it was moving and powerful, and we've captured that same energy here," he says. "It's impossible to walk into a place with a lot of flowers and not be happy."
The Kibler & Kirch Presents idea was also inspired by Stapleton Gallery in another way. "This idea came out of lessons I've learned from the gallery about creating demand – that sense of anticipation about what are we doing next?" he says of Stapleton Gallery's famously single-night exhibition events that gain impact through being transitory. "Now we're applying that to retail."
The shop's basic backdrop, designed by Young, has a mercantile feel with plenty of shelving that provides flexibility to customize for the changing pop-up shop themes to come. For The Flowerie, Young painted the floor "a lovely shade of pink," enhancing the feeling of stepping into a magical world apart from the everyday. And it's an "Insta-ready" world as well: "The visuals are so arresting," Young says. "We've specifically designed the space so it would be beautiful to photograph."
Looking to the future, Young already has a list of some two dozen ideas for future pop-up shops to inhabit the space, ranging from equestrian to "everything plaid" to a made-in-Montana store titled "The Last Best Store." And Young isn't necessarily limiting the Kibler & Kirch Presents concept to stores. "It could be that we could present a restaurant, or Kibler & Kirch could present events not unlike what we've done in the gallery," he says. "It's expanding the idea of retail – the art of retail."
The idea that you can "always fit one more flower in that arrangement" is something of a mantra for Young as he takes turns with his Kibler & Kirch team in staffing the new pop-up shop. "Actually, a lot of anything is beautiful – which in some ways is the whole concept behind Kibler & Kirch Presents," he says. And as for The Flowerie? "Everyone who has walked in has gushed. It's truly special and a feast for the senses."
About Jeremiah Young's Kibler & Kirch:
Annually recognized on Mountain Living magazine's Top Mountain Designers list, Kibler & Kirch resonates with a distinctive – and distinctly Western – style. Its Billings, Montana, showroom represents more than 100 companies featuring a carefully curated collection of American-made furnishings and décor ranging from rustic to refined. And owner and creative director Jeremiah Young and staff bring those resources – and deep connections with regional artists and artisans, including those represented by Young's Stapleton Gallery – to bear on crafting timeless interiors for clients where the spirit of the West meets modern treasures that are built to last. Follow Kibler & Kirch on Instagram and for more information, visit http://www.kiblerandkirch.com.