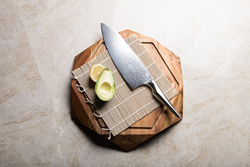 We wanted a set that inspires creativity in the kitchen. The key is beauty, balance, and sharpness.
LONDON (PRWEB) July 31, 2018
Today Edge of Belgravia launched Shiroi Hana, the company's latest line of high quality, AUS-10 Japanese steel chef knives. The complete set is now available for $299 USD on Kickstarter.
Last year Edge of Belgravia became the most funded Chef Knife campaign on Kickstarter, raising over $2 million for their debut Japanese steel knives, the Kuroi Hana. Having successfully delivered to over 7,000 backers, they are now back with their new collection, Shiroi Hana.
Each of the Shiroi Hana knives features 67 layers of alternating steel, protecting the Japanese AUS-10 super steel. Shiroi Hana is Japanese for "white flower", alluding to the light Damascene floral pattern on the knives. The knives also feature a smooth, polished finish, reducing microscopic roughness to prevent substance build up and corrosion.
The complete 6 piece set includes a 4" paring knife, 6" utility knife, 6" small chef knife, 7.5" large chef knife, 7.5" bread knife, and a 7.5" slicing knife. Combined, these offer all the essential tools any budding chef would need in the kitchen.
For those who just want a taste of the new collection, Edge of Belgravia have also introduced a stand alone 7.5" chef knife; for $99 USD. They have also introduced a new concept set: the Samurai set, inspired by traditional Japanese knives. This set includes the Unagi knife, the Nakiri knife, and the Santoku knife ($199 USD).
"We wanted to create a chef knife collection which is both striking and highly functional," said Freddie Ostlund, founder of Edge of Belgravia. "We wanted a set that inspires creativity in the kitchen. The key is beauty, balance, and sharpness".
A covered spine protects the AUS-10 Japanese steel cutting core and a polished mirrored finish has the added benefit of highlighting the beautiful floral pattern and integrates seamlessly into its hallmark handle. AUS-10 is a world renowned steel only produced by the Aichi steel corporation in Japan. Purposefully hardened to 59 Rockwell (HRC) for long edge retention, extreme sharpness, and good corrosion resistance, it is the recommended grade for high-end chef's knives.
This innovative high carbon steel core also contains vanadium, a metal which improves wear resistance, toughness, and ease of sharpening. The remaining layers are formed by alternating layers of S/S 304 and S/S 431 steel to create an outer case, further protecting the valuable AUS-10 cutting core.
The knives have been tested and endorsed by several high profile chefs, including Michelin Star Chef Paul Hood and renowned sushi chef Yuki Gomi.
"Every home chef needs a set of knives they can be proud of without breaking the bank," said Ostlund. "We're proud of the overwhelmingly positive feedback we have received from professional chefs."
The complete Shiroi Hana chef knife collection will be available from July 31, 2018 for $299 USD. The estimated delivery date is March 2019.
Media wishing to interview Edge of Belgravia personnel should contact PR agent, Jackson Wightman at +1 (514) 605-9255.
About Edge of Belgravia
Established in Belgravia, London in 2010, Edge of Belgravia has successfully launched many unique chef tools, including their popular Teak Star cutting board, Black Diamond cutting blocks, and a variety of innovative knife sets.
Media Contact
Jackson Wightman
Proper Propaganda
(514) 605 9255
jackson@properpropaganda.net