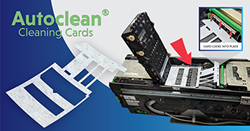 The Autoclean patents underscore KICTeam's unique ability to deliver what our customers require – top performance and visible results.
AUBURN, Maine (PRWEB) September 10, 2019
KICTeam announced today that is has been granted design and method patents for its revolutionary Autoclean technology.
Autoclean technology uses the drive motors of the device to do the cleaning for you. The custom-designed cards lock in place inside a device, letting the belts and rollers scrub themselves clean against the card as the motor is run. By automating the cleaning process, KICTeam turns cleaning that was too difficult, too time-consuming, or simply not possible into something that can be done effectively, easily and consistently – in a fraction of the time.
The Autoclean cards have already proved to be especially effective when saturated with KICTeam's MiracleMagic™ formula, which is designed specifically to target the dirt that builds up in currency handling. Used on ATMs, the cards have allowed service technicians to perform a thorough cleaning, which previously took nearly an hour, in a matter of minutes. Free from the dirt and debris, the ATMs had increased availability, improved performance, and created a better user experience.
Remarking on the performance of the patented technology, KICTeam's CEO, Ian McCormick, remarked, "This is a proud milestone in our company's development. These latest patents are our 9th and 10th, demonstrating our leadership position. More importantly, the Autoclean patents underscore KICTeam's unique ability to deliver what our customers require – top performance and visible results."
About KICTeam Inc.
KICTeam creates proprietary and patented cleaning solutions designed to enhance the performance of tech devices in fast-growing industries. The company adapts its innovations to specific devices, powering the world's most successful businesses in Banking, Retail, Healthcare, C-Stores, and Gaming. Leveraging 20+ years' experience and 50+ OEM relationships globally, KICTeam's exclusive programs and products deliver enhanced business performance and unmatched customer experiences. http://www.kicteam.com