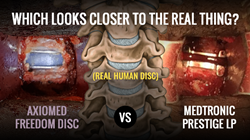 ...Consolidation and market expansion will continue for the next 5 years as larger device players respond to growth pressures and to new innovations in the areas of motion preservation and biologics.
MALDEN, Mass. (PRWEB) February 14, 2019
KICVentures, an investment holding company in healthcare, announced today that it will be raising money for the specific purpose of preparing its two disruptive spine portfolio companies, AxioMed LLC and NanoFUSE Biologics LLC as prime targets for acquisition in the next 3-5 years.
The spine industry is consolidating evidenced by multiple acquisitions, creating a favorable climate for investors. Also favorable is the outlook that consolidation and market expansion will continue for the next 5 years as larger device players respond to growth pressures and to new innovations in the areas of motion preservation and biologics.
AxioMed Freedom™ Disc is a revolutionary cervical and lumbar spinal disc replacement that identically acts like the natural disc because of its patented viscoelastic material. The AxioMed disc has an exclusive, 15-year license to the viscoelastic material, robust IP, in-house manufacturing, and manufacturing trade secrets. It is the first and only viscoelastic disc replacement to complete a USA, IDE lumbar clinical study.
The lumbar disc has over 5 years of clinical follow-up data and a USA release is expected in 2020 with the hopes of a lateral indication to compete against NuVasive's lateral fusion. The cervical disc, 3-level clinical trials are expected to begin in 2019 and will be the only cervical viscoelastic disc with multi-level indications.
NanoFUSE Biologics is the only bioactive glass that is FDA-cleared to be combined with demineralized bone matrix (DBM).
To replicate this one-of-a-kind orthobiologic, the competition would need a clinical IDE study, which gives NanoFUSE Biologics a 5-year competitive advantage to start. Bioactive glass has been clinically proven in orthopedics for over 30 years. The patented NanoFUSE manufacturing process produces an advanced bioactive glass with high efficacy demonstrated in animal studies. NanoFUSE has been used by over 300 surgeons and implanted in over 1200 patients.
To finance growth, KICVentures (the parent company of AxioMed and NanoFUSE) has opened a limited number of investment opportunities to qualified investors.
To learn more please visit http://www.KICVentures.com.
Click here to see a recent KICVentures article in OrthoNews.
About AxioMed LLC®
AxioMed was founded to advance the standard of care for patients with degenerative spine conditions by progressing spine technology beyond fusion and first-generation artificial discs. Led by an experienced surgeon team and utilizing patented viscoelastic polymer technology, AxioMed has developed the next generation of artificial discs. AxioMed completed its U.S. IDE for the Lumbar Disc with over five years of clinical follow-up.
About NanoFUSE Biologics LLC
NanoFUSE is the synergistic blend of osteoinductive DBM combined with the osteostimulative properties of bioactive glass. NanoFUSE is the only FDA-cleared combination of DBM and bioactive glass and is indicated for use in all orthopedic surgery. NanoFUSE Biologics is a KICVentures portfolio company, distributed by SpineFrontier.
About KICVentures LLC
KICVentures is a private investment company founded in 2005 by Harvard-trained Orthopedic Surgeon & Professor Dr. Kingsley R. Chin, who brings unique experience at the intersection of medicine, business and information technology. KICVentures is equipped with a strong advantage in identifying niche healthcare opportunities. It is the parent company of AxioMed, NanoFUSE and SpineFrontier and is headquartered in Boston, Mass.