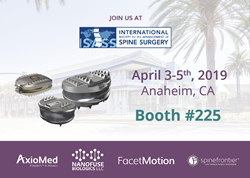 "...international surgeons are more open to disruptive technological innovations than their U.S. counterparts who tend to have legacy relationships with large medical device providers and the products they have trained on, making them less open to newer, cutting-edge technologies like ours."
BOSTON (PRWEB) April 03, 2019
KICVentures will represent its portfolio companies, AxioMed, NanoFUSE and SpineFrontier at an exhibit at the International Society for the Advancement of Spine Surgery (ISASS) Annual Conference in Anaheim, CA on April 3-5th, 2019. It will exhibit at Booth #225.
Founder and CEO of KICVentures Dr. Kingsley R. Chin says, "With the recent renewal of the CE Mark on the AxioMed® Freedom® Cervical Disc, the disc's popularity continues to grow overseas — across Europe, Asia, and Australia. We are also seeing strong NanoFUSE adoption internationally — all the way to New Zealand. KICVentures believes that its portfolio companies NanoFUSE, AxioMed and SpineFrontier will continue to disrupt spine surgery internationally. In 2019 KIC has already raised over $10 million in growth capital including international investors and surgeons."
When asked about KICVentures' success overseas, Dr. Chin responded, "Our experience has shown that international surgeons are more open to disruptive technological innovations than their U.S. counterparts who tend to have legacy relationships with large medical device providers and the products they have trained on, making them less open to newer, cutting-edge technologies like ours."
Dr. Chin says that ultimately KICVentures is focused on expansion both internationally and in the U.S. and will emphasize proven research and surgeon education to overcome the barriers inherent in a system dominated by larger medical device companies.
"ISASS has an interesting history, in that it was formerly called "The Spine Arthroplasty Society" and was founded in 2000 in order to examine motion preservation as an alternative to fusion. Because we consider ourselves one of the leading companies in spine arthroplasty, we feel this is the right platform for us to rekindle interest in motion preservation as a disruptive force in spine surgery, and to remind others of ISASS's own foundational value of motion preservation," said Dr. Chin.
Representatives from KICVentures will be present at the event to answer questions about its technologies and to talk about potential investment opportunities.
About KICVentures
KICVentures is a private investment, holding company founded by Harvard-trained, Orthopedic Surgeon & Professor Dr. Kingsley R. Chin, who brings unique experience at the intersection of medicine, business and information technology. KICVentures is equipped with a strong advantage in identifying niche healthcare opportunities and has a proven track-record of building the most disruptive spine technology portfolio, including AxioMed, NanoFUSE and SpineFrontier. It has headquarters in Boston, MA.
About SpineFrontier
SpineFrontier is a medical device technology company founded in 2006 that designs and develops proprietary, best-in-class implants and instruments for spine surgery based on the trademarked Less Exposure Surgery (LES (TM)) philosophy. SpineFrontier is a KICVentures' portfolio company and the leader in LES (TM) technologies.
About NanoFUSE Biologics
NanoFUSE is the synergistic blend of osteoinductive DBM combined with the osteostimulative properties of bioactive glass. NanoFUSE is the only FDA-cleared combination of DBM and bioactive glass and is indicated for use in all orthopedic surgery. NanoFUSE Biologics is a KICVentures portfolio company and is distributed by SpineFrontier.
About AxioMed
AxioMed was founded to advance the standard of care for patients with degenerative spine conditions by progressing spine technology beyond fusion and first-generation artificial discs. Led by an experienced surgeon team and utilizing patented viscoelastic polymer technology, AxioMed has developed the next generation of artificial discs. AxioMed completed its U.S. IDE for the Lumbar Disc with over five years of clinical follow-up.