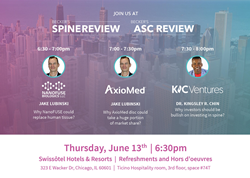 "This is the Future of Spine conference, so it's appropriate that NanoFUSE and AxioMed present on next-generation technologies that will significantly change the future of spine treatment as we know it."
BOSTON (PRWEB) June 13, 2019
KICVentures announced today its plans to host an event at Becker's 17th Annual Future of Spine & The Spine, Orthopedic and Pain Management-Driven ASC Conference in Chicago on Thursday, June 13th at 6:30 pm. The event will take place at Swissotel Hotels & Resorts 323 E. Wacker Dr. Chicago, IL in the 3rd floor Ticino Hospitality room in space #74T.
The event will feature three brief talks by Dr. Kingsley R. Chin, CEO of KICVentures and Jake Lubinski, President of Acquisition and Commercialization for KICVentures. Jake Lubinski will speak on behalf of NanoFUSE Biologics, LLC, about "Why NanoFUSE could replace human tissue." He will also talk about "Why the AxioMed Disc could take a huge portion of market share." Dr. Kingsley R. Chin will present on "Why investors should be bullish on investing in spine."
"Physicians interested in the latest technology in both biologics and total disc replacements should not miss this event," Jake Lubinski said. "This is the 'Future of Spine' conference, so it's appropriate that NanoFUSE and AxioMed present on next-generation technologies that will significantly change the future of spine treatment as we know it."
KICVentures encourages Beckers' Conference guests to attend. Refreshments and Hors d'oeurves will be served.
About KICVentures
KICVentures is a private investment holding company founded by Harvard-trained Orthopedic Surgeon & Professor Dr. Kingsley R. Chin, who brings unique experience at the intersection of medicine, business and information technology. KICVentures is equipped with a strong advantage in identifying niche healthcare opportunities and has a proven track-record of building the most disruptive spine technology portfolio, including AxioMed, NanoFUSE and SpineFrontier. It has headquarters in Boston, MA.
About NanoFUSE Biologics
NanoFUSE is the synergistic blend of osteoinductive DBM combined with the osteostimulative properties of bioactive glass. NanoFUSE is the only FDA-cleared combination of DBM and bioactive glass and is indicated for use in all orthopedic surgery. NanoFUSE Biologics is a KICVentures portfolio company and is distributed by SpineFrontier.
About AxioMed
AxioMed was founded to advance the standard of care for patients with degenerative spine conditions by progressing spine technology beyond fusion and first-generation artificial discs. Led by an experienced surgeon team and utilizing patented viscoelastic polymer technology, AxioMed has developed the next generation of artificial discs. AxioMed completed its U.S. IDE for the Lumbar Disc with over five years of clinical follow-up.