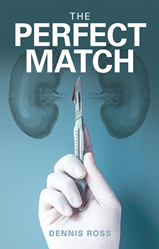 "A worthy murder mystery with clearly explained medical terms." -Kirkus
WICHITA, Kan. (PRWEB) November 18, 2019
Nephrologist and author Dennis Ross has brilliantly highlighted the fear, trauma and desperation patients and families experience when one is diagnosed with kidney failure in his new medical mystery novel, "The Perfect Match."
College student Nick Seratino's life is turned upside down after he finds out he has end stage renal disease. Nick's diagnosis requires dialysis and a new kidney, so he is placed on the kidney transplant waiting list. Nick's father, Emilio Seratino, is terrified of watching his son waste away and the Seratinos are presented with many options for a new kidney—and Emilio is willing to utilize any and all of them.
As Nick waits for a new kidney, patients ahead of him on the waiting list mysteriously start dying and the authorities are called in to investigate. On top of the hardships the Seratinos are facing, Nick's condition digs up a host of family secrets better left buried.
While "The Perfect Match" is sure to keep readers on their toes, Ross also hopes the book will educate readers about life with kidney failure, the kidney transplantation process and the importance of organ donation. "I have cared for renal failure patients for 43 years and have witnessed the trauma to patients and their families," Ross says. "I want everyone to know how many patients are desperate for a kidney transplant and how becoming a donor can transform a life."
Kirkus Reviews praises "The Perfect Match" as "a worthy murder mystery with clearly explained medical terms… Author Ross, a kidney specialist, writes in an unadorned but informative style. The doctors in the story, for example, comprehensively explain their procedures in intelligent and remarkable passages."
To learn more about Ross and his book, please visit http://www.readdennisross.com. To learn more about how to become an organ donor, please visit http://www.organdonor.gov.
"The Perfect Match"
By Dennis Ross
ISBN: 9781480877528 (softcover); 9781480877504 (hardcover); 9781480877511 (electronic)
Available at Archway Publishing, Amazon and Barnes & Noble
About the author
Dr. Dennis Ross is a practicing nephrologist in Wichita, Kansas and is President of Kansas Nephrology Physicians and Kansas Nephrology Research Institute. Dr. Ross is board certified in Internal Medicine and Nephrology and is a Clinical Professor with the University of Kansas Medical School, Wichita. He has authored or co-authored several scientific journal articles. He is a Fellow in the American Academy of Physicians and a Fellow of the American Society of Nephrology. He also received the Lifetime Achievement Award in Medicine by the Wichita Business Journal.
For Review Copies and Interview Requests:
LAVIDGE – Phoenix
Kalin Thomas
480-648-7540
kthomas(at)lavidge(dot)com