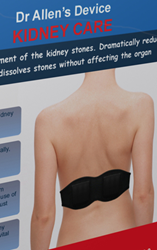 London, GB (PRWEB) September 22, 2014
A recent article 'How to prevent kidney stones' presents an overview of the prevention and treatment of kidney stones, the problem which affects affect approximately one in ten people in the United States throughout their lifetime. In order to avoid kidney stones, it is recommended some changes in diet and daily habits, and consuming up to 12 glasses of water daily. At the same time Dr. Allen's Device provides complete kidney stones disease treatment, dissolving renal calculi and preventing stones formation, Fine Treatment reveals.
According to the recent article 'How to prevent kidney stones', dated September 04, 2014, in the Fox News, 'Treatment for kidney stones primarily depends on the size of the stone. If it is smaller than 4 mm in diameter, you have a good chance of passing it naturally. Stones of 5 mm diameter have an average of 50 percent chance of passing. Larger stones may require surgical intervention such as shock-wave treatment or manual stone extraction.'
"However people must be aware that surgical procedures such as extracorporeal shock wave therapy (ESWL) and percutaneous nephrolithotomy are risky," comments Dr. Allen. Complications in kidney stone patients are quite common. The average cost of treating complications after ESWL is about $30,000 per patient. Furthermore, the conclusion of researches at the Mayo Clinic of Rochester, Minnesota, is: "At 19 years of follow-up SWL for renal and proximal ureteral stones was associated with the development of hypertension and diabetes mellitus."
Urologist, Professor Ivan Aghadjanyan, who leads the clinical trial on Dr. Allen's Devices at the Department of Urology at The Mikaelyan Institute of Surgery, in his interview to the Panorama Newspaper has stated: 'The initial results have shown high efficacy of Dr. Allen's Devices. Kidney stones have been gradually reducing in size in both men and women. It should be noted that all results have been achieved without prescription drugs, medicines and surgical procedures.'
Thermobalancing therapy enabled by Dr. Allen's Device eases the symptoms of kidney stones disease first, gently dissolving the renal calculi over time. Watch an informative video here: http://www.youtube.com/watch?v=5Wo0BQ24D6U.
"People must be aware about Thermobalancing therapy which helps to forget about kidney stones disease and don't blindly agree to use risky surgical procedures." says Dr. Simon Allen. "Dr. Allen's Device dissolves any size and type of kidney stones in both kidneys gently and without side effects,"
Read more at: http://finetreatment.com/kidney-stones-treatment-kidney-stone/.
About Dr. Simon Allen and Fine Treatment:
Dr. Simon Allen, MD, PhD, Academician, member of the ATA, is a highly experienced medical professional specialising in internal medicine. He has treated a wide range of chronic diseases, including patients after a heart attack, with kidneys problems, including kidney stones disease, prostate and spine conditions, as well as metabolic disorders. Fine Treatment exclusively offers Dr. Allen's Devices for chronic prostatitis and BPH treatment, coronary heart disease, for dissolving kidney stones, easing chronic headaches, and relieving upper spine tension, lower back pain and sciatica.