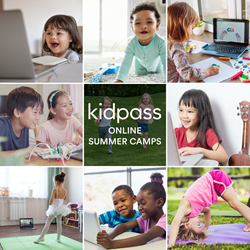 KidPass offers the largest selection of online kids classes and summer camp options from top programs across the U.S.
NEW YORK (PRWEB) May 21, 2020
KidPass, the leading website for finding online kids classes, has launched the largest directory of online summer camps to help kids ages 2 to 18+ learn new skills, form friendships, and make memories while at home this summer. With many day and sleepaway camps across the country closed for the season, leading kids programs—like Gymboree, YMCA, Super Soccer Stars, and Broadway Kidz—are getting creative and hosting online sessions. The summer camps, which can be booked on KidPass, are live, interactive, and in a small group format with daily options for art, music, dance, yoga, languages, STEM, theater, sports, coding, cooking, and more. KidPass will also host the first-ever Online Summer Camp Fair on Wednesday, June 3 to introduce families to this summer's most exciting online programs.
"While this summer looks different than it has traditionally, children now have options like never before in terms of enriching and fun experiences with online kids classes and virtual camps," said Solomon Liou, KidPass' Co-Founder and CEO. "With the launch of online summer camps, children can try programs they may not have been able to due to geography. The best summer programs and camps are opening their doors online. Now, everyone can sign up for music and dance classes from Broadway stars, arts & crafts classes from professional artists, and soccer clinics from sports pros."
With more than 10,000 activities available, KidPass' online classes and camps provide even more flexibility. Parents can easily customize their child's summer schedules, and book daily, weekly, or one-time classes. "Parents aren't necessarily looking for a full-day camp experience like in the past," added Liou. "The trend is for shorter classes so kids can try out and experiment with three or four different subjects. We want to make the summer as easy as possible for parents, many of whom are dealing with work from home situations, childcare issues, and more. KidPass is here to help infuse fun, learning, and stability into their kids' summer."
KidPass' online kids classes also help to give children a sense of community and regularity in their schedule—something many of them are missing right now due to school closures. "Camps have always been about building friendships," said Liou. "This year is no different and KidPass can help children form new friendships as they learn online with classmates across the country."
In addition, with the KidPass Cares initiative, 100% of class and camp proceeds goes back to the providers. "We're all in this together," said Liou. "Here at KidPass, we are committed to supporting our teachers in need, and paving a new era of online learning and fun in a way that's never been done before."
To learn more about KidPass' online kids classes and online camps, visit http://www.kidpass.com.