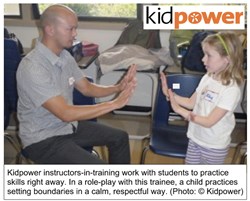 For those interested in child safety, there are few other things you can do in life that will have such a profound impact on the lives of others in such a short time.
San Franicisco, CA (PRWEB) September 17, 2013
Kidpower, a leading global provider of child safety training and educational curriculum, is accepting applications for the January 2014 Kidpower Comprehensive Program Training, open to adults interested in becoming Kidpower Instructors or starting a Kidpower center in their community.
"This is the program for people who are dedicated to child safety and the prevention of bullying, child abuse, kidnapping and other violence," says Kidpower Founder and Executive Director, Irene van der Zande. "And despite the sad realities of violence in children's lives - trainees can expect to have fun learning the Kidpower Positive Practice teaching method," she adds. "Instead of using fear to teach about danger, Kidpower makes it fun to learn to be safe!"
The annual Kidpower Comprehensive Program Training, which is a required part of the certification process to become a Kidpower instructor, will take place January 23-28, 2014 in Santa Cruz, CA, Kidpower's international headquarters.
Kidpower is accepting applications until Nov. 1, 2013. However, training spots will be filled as applications are reviewed and accepted, which means that spots may fill earlier than the application deadline. For detailed information on the application process go to Kidpower's website: http://www.kidpower.org/what-we-do/instructor-training/.
"People who are interested in the training should not delay," says van der Zande. "Those accepted into our training program immediately become part of our international community of leaders who are dedicated to safety and empowerment for all ages and abilities – and begin receiving support right away in getting ready to teach Kidpower."
Kidpower has more than 20 centers in the US and other countries, and has provided safety education to protect more than 2 million people from bullying, abuse, kidnapping and other violence. "People come from all around the world to our international comprehensive trainings," says van der Zande.
Van der Zande shares more information about instructor training and a recent "success story" from a parent, which she says shows the impact a Kidpower program can have, on the Kidpower.org Put Safety First blog: "Here's a story from a mother about how her kids have used the skills they practiced in a Kidpower workshop:
The mom wrote: "Despite the fact that I have a degree in child development, worked more than 10 years with children in a professional capacity, and was now a mom, I was clueless on how to protect my own kids without scaring them. At my first Kidpower Parent Workshop, I realized I had finally found a non-scary way to teach my kids how to protect themselves. Now I have tools and my children have tools to keep them safe.
Even though our original intention in taking Kidpower workshops was to prevent sexual abuse, I must say Kidpower is more than that. I see my children use their skills all the time. Here are some examples:
1. When my children are playing in a group of children and another child plays to roughly, they are able to clearly stop the behavior.
2. If someone says something to them that can be taken as an insult, it usually rolls right off them.
3. When we have been separated in a public place, they stayed calm and knew exactly what to do.
4. As siblings, they are prone to not always get along. When this happens, they use their Kidpower skills with each other.
My husband and I have also used our skills at work, with friends and family, and in public. Kidpower workshops have changed my life and my family's life in a powerful, profound way. Knowing that my children know how to prevent problems and protect themselves emotionally and physically is the best gift in the world.
I think Kidpower should be a part of every person's safety education. Thank you to everyone at Kidpower! Know that every day, you change someone's life for the better.'"
"As that story shows, there are few things you can do in life that will have such a profound impact on the lives of others in such a short time," says van der Zande.
To learn more about how to become an instructor or start a center, read about Kidpower's Instructor Training and Center Development programs, which detail the application process.
About Kidpower
Kidpower is a non-profit leader in personal safety and confidence-building skills education, whose programs are highly recommended by experts worldwide for taking a positive, skills-based approach to preventing abuse, kidnapping, bullying and other violence. Kidpower workshops, K-12 safety curriculum, books, videos, and the Kidpower.org free resource library have helped to protect more than 2 million people, including those with special needs, from abuse, bullying and other violence since 1989.
Kidpower's founder and executive director, Irene van der Zande, has been featured as a personal safety expert by USA Today, CNN, and The Wall Street Journal. She is the author of The Kidpower Book for Caring Adults, a comprehensive guide for understanding personal safety, self-protection, confidence, and advocacy for young people; Bullying: What adults need to know and do to keep kids safe; and the Kidpower Safety Comic Series, which many schools use in their child abuse and violence prevention training programs.
Media contact: email "media(at)kidpower(dot)org" for more information or to request an interview.