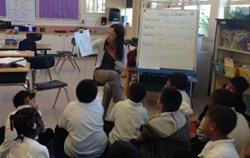 The Positive Peer lessons are especially important in creating a common language with our students to help prevent bullying.
San Francisco, CA (PRWEB) October 29, 2013
Bullying and violence prevention curriculum from Kidpower International is easy to prepare, fun to teach and learn with cartoon-illustrated lesson plans and assignments, and is now available to the public so that any teacher, youth group leader or family can quickly help kids learn how to take charge of their emotional and physical safety — and prepare them to develop positive peer relationships and healthy communication skills.
Two new books by Kidpower founder and executive director Irene van der Zande, a leading child safety expert, have been released and adopted by several organizations.
"I'm so glad we were able to get these books released in time for Bullying Prevention Month," says van der Zande. "I hope many more schools, youth groups and families will now have empowering lessons they can use to help kids learn how to avoid and stop bullying, abuse and other violence in their lives with the support of the adults who care for them."
The books, available on Amazon and Kidpower's website, are:
-- "15 People Safety Group Lessons: Teaching Children Ages 5 -11 To Be Safe With People" 
http://www.kidpower.org/store/products/15-people-safety-group-lessons/
-- "10 People Safety Assignments For Children Ages 5-12 in English and Spanish"
http://www.kidpower.org/store/products/10-people-safety-assignments/
"The Group Lessons were first piloted for our training with teachers in the Migrant Education program of Monterey County and then also used with our Kidpower-in-Action teacher mentoring program," says van der Zande. "The 10 Assignments were developed for the Kidpower Everyday Safety Skills Classroom Research Project to help children integrate the safety skills at home with parents as well as at school."
"These materials were so effective in making it possible for educators to use the Kidpower program in an ongoing way that we decided to make them far more widely available by publishing them as books," adds van der Zande. Since 1989, van der Zande has led Kidpower International in the development of a broad "People Safety" curriculum to help people of all ages prevent and stop bullying, abuse, kidnapping and other violence; offering books, training teachers and conducting in-person workshops in communities and schools across the world.
Whether new to Kidpower's People Safety concepts and skills-based curriculum or very experienced, educators have praise for the new books:
"We are excited to have these new resources for helping our teachers and other staff integrate teaching Kidpower safety strategies and skills into their daily activities," says Kathy Rideout, Director of Montessori School of Santa Cruz County, which has been using the Kidpower program for over 20 years. "The Positive Peer lessons are especially important in creating a common language with our students to help prevent bullying."
"We need lesson plans that are easy for busy teachers to prepare and use with a group of children," says Daisy Barocio. Principal of Escuela Popular Dual Language Academy in San Jose, which is working with Kidpower to train teachers and adopting the Kidpower Positive Peer Curriculum as their bullying prevention program school-wide. "The assignments also provide a way for the children show their parents what they learned and keep practicing at home. The fact that they are in both English and Spanish is a big help for creating a common language about safety problems, since many of our students come from Spanish-speaking families."
About Kidpower International
Kidpower International is a non-profit leader in child-protection, personal safety, self-defense and confidence-building skills education, whose programs are highly recommended by experts worldwide for taking a positive, skills-based approach to preventing child abuse, kidnapping, bullying and other violence. Since 1989, Kidpower's in-person workshops, preK-Young Adult "People Safety" curriculum, books, videos, and the Kidpower.org free resource library have directly helped protect more than 2.5 million young people and their adults, including those with special needs. Kidpower's founder and executive director, Irene van der Zande, has been featured as a personal safety expert by USA Today, CNN, and The Wall Street Journal. She has authored numerous books and articles about child protection, positive communication, and violence prevention, including The Kidpower Book for Caring Adults, a comprehensive guide for understanding personal safety, self-protection, confidence, and advocacy for young people; Bullying: What adults need to know and do to keep kids safe; and the Kidpower Safety Comic Series, which many schools use in their bullying and violence prevention training programs.
Media contact: email "media (at) kidpower (dot) org" for more information or to request an interview.