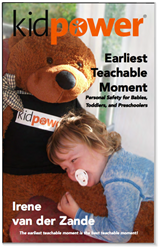 The earliest teachable moment is the best teachable moment, as long as it's done in a way that builds understanding and skills, rather than creating anxiety and fear.
San Francisco, CA (PRWEB) October 31, 2013
Know any parents or teachers looking for upbeat, fun ways to help kids be safe with peers, adult acquaintances, caregivers and strangers — without scaring them or "making problems worse"?
This season, give the gift of safety. Kidpower International's entertaining "People Safety" books offer inspiring stories, easy lessons, cartoon illustrations, and age-appropriate, fun, skill-building role-plays that help prepare children, teens and adults to build strong, healthy relationships and take charge of their personal safety.
"With the holidays fast approaching, we want to highlight some of our newest and also some of our best known 'People Safety' books, which are all about the ways we teach life skills that help people avoid or stop most abuse, bullying and violence and also build healthy relationships," says Author Irene van der Zande, founder and executive director of Kidpower International, a leading nonprofit in child protection and personal safety skills education.
"Earliest Teachable Moment: Personal safety for babies, toddlers and preschoolers," Kidpower International's newest book, "makes a great gift for new parents and caregivers of very young children — and will be available soon on Kindle for easy reading even with your hands full," says van der Zande. "The title comes from one of Kidpower's key concepts; that the earliest teachable moment is the best teachable moment, as long as it's done in a way that builds understanding and skills, rather than creating anxiety and fear." For more about the book, Earliest Teachable Moment go to: http://www.kidpower.org/store/products/personal-safety-4-babies-toddlers-preschoolers/
"The Kidpower Book for Caring Adults: Personal Safety, Self-Protection, Confidence, and Advocacy for Young People," is a comprehensive, 400-page, guidebook to protecting children from harm and teaching them to protect themselves, with a forward by Gavin de Becker, renown expert in predicting and managing violence and best-selling author of "The Gift of Fear" and "Protecting The Gift." "Kidpower has an exceptional track record in the field of personal safety and violence prevention," writes de Becker. For more about The Kidpower Book, go to: http://www.kidpower.org/store/products/kidpower-book/
The Kidpower Safety Comics Series for Kids, Teens and Adults in English and Spanish editions, offer age-appropriate comics and stories showing how Kidpower strategies and skills work in many different situations:
"Kidpower Safety Comics for Younger Children" has age-appropriate stories for preschoolers through third graders to address issues such as using "hands down power" instead of hitting, using "mouth closed power" instead of saying mean words, getting help from busy adults, stranger safety and making safety plans for problems like getting lost in the store.
"I was looking for a fun way to help my daughter be safe and take care of herself," says Eve Margolis, in Austin, TX. "The Safety Comics provided an easy way to talk about topics that could otherwise be scary. My daughter enjoyed Kidpower so much that we practiced all the time, and her friends started joining us."
The "Kidpower Older Kids Safety Comics" for middle school through teens offers even more stories to help stop bullying, how to set and respect boundaries, dealing with peer pressure, safety on the Internet, and making safety plans for older kids to handle increased independence and responsibilities such as going to and from school on their own.
"Recently a parent who bought a copy online wrote to us, 'Before I could even look at my copy of the Older Kids Safety Comics, my 11-year-old took it from me and read it cover to cover,'" says van der Zande. "What a great endorsement about how much kids want this information!"
The Fullpower Safety Comics book for teens and adults helps make learning personal safety skills fun and accessible for people with intellectual disabilities or limited literacy skills. "Many of my clients are teens and adults with developmental disabilities who have already experienced bullying, abuse, or other violence," says John Luna Sparks, a licensed clinical social worker in Oakland, CA. "I use the Fullpower Safety Comics even with those who can only read just a little. The entertaining illustrations, social stories, and step-by step descriptions of practices are a huge help for them in developing personal safety strategies and skills."
For more about the Safety Comics series of books, available in English and Spanish, go to: http://www.kidpower.org/store/safety-comics/
Bullying Prevention and Violence Prevention Curriculum for Teachers, Youth Group Leaders, Parents and Martial Artists:
The book, "Bullying – What Adults Need to Know and Do to Keep Kids Safe," shows how to use Kidpower practices to create cultures of caring, respect, and safety at school, at home, and in your community. The vivid stories, entertaining examples, and clear step-by-step explanations of what to say and do are relevant for addressing bullying with all young people, from toddlers to teenagers, and are even useful in dealing with adult-to-adult bullying. For more about Kidpower's Bullying solutions book, go to: http://www.kidpower.org/store/products/bullying/
Two new curriculum books released just this month, "15 People Safety Group Lessons" and "10 People Safety Assignments," offer bullying and violence prevention lessons that are easy to prepare, fun to teach and learn with cartoon-illustrated lesson plans and student assignments. The curriculum is designed to allow a teacher, youth group leader or family to quickly help kids learn how to take charge of their emotional and physical safety – and prepare them to develop positive peer relationships and healthy communication skills.
"We need lesson plans that are easy for busy teachers to prepare and use with a group of children," says Daisy Barocio, Principal of Escuela Popular Dual Language Academy in San Jose. "The assignments also provide a way for the children show their parents what they learned and keep practicing at home. The fact that they are in both English and Spanish is a big help to creating a common language about safety problems, since many of our students come from Spanish-speaking families."
For more about these two new curriculum books go to:
-- "15 People Safety Group Lessons: Teaching Children Ages 5 -11 To Be Safe With People"  http://www.kidpower.org/store/products/15-people-safety-group-lessons/
-- "10 People Safety Assignments For Children Ages 5-12 in English and Spanish"
http://www.kidpower.org/store/products/10-people-safety-assignments/
"One Strong Move," Kidpower's new teachers' manual, makes teaching practical self-defense to teens and adults easy with 150 pages of lesson plans, teaching tips and cartoon-illustrated visual aids to engage students, and make lessons and practices simple, safe and fun for busy physical education, martial arts, and classroom teachers.
"The book focuses on building awareness skills for how to spot and get out of dangerous situations, as well as how to verbally and physically defend yourself in at attack," says van der Zande. "Although it's aimed at teens and adults, much of the information is also relevant for teaching middle-school aged children."
"One Strong Move is the new textbook for our practical self-defense workshops," says David Harrison MD, who says he became "acutely aware of the reality of personal violence" as an emergency physician, which is why he also has been teaching self-defense for more than a decade in Vancouver, BC. "The clear lesson plans and entertaining cartoons make teaching physical self-defense to teens and adults a simpler task. This will be especially helpful in teaching martial artists and other teachers how to use the Kidpower teen and adult program to teach self-defense in their schools."
For more about teaching self-defense with the One Strong Move book, go to: http://www.kidpower.org/store/products/one-strong-move/
All of these books and more from Kidpower International are available on Amazon and from Kidpower's website. All income from books sales goes to help Kidpower International, a nonprofit organization, cover the cost of publication and of providing educational resources.
About Author Irene van der Zande and Kidpower International
Kidpower International is a non-profit leader in child-protection, personal safety and confidence-building skills education, whose programs are highly recommended by experts worldwide for taking a positive, skills-based approach to preventing child abuse, kidnapping, bullying and other violence. Since 1989, Kidpower's in-person workshops, preK-12 "People Safety" curriculum, books, videos, and the Kidpower.org free resource library have directly helped to protect more than 2.5 million young people and their adults, including those with special needs.
Kidpower's founder and executive director, Irene van der Zande, has been featured as a personal safety expert by USA Today, CNN, and The Wall Street Journal. She has authored numerous books, training manuals and articles about child protection, positive communication, and violence prevention.
Media contact: email "media (at) kidpower (dot) org" for more information or to request an interview.