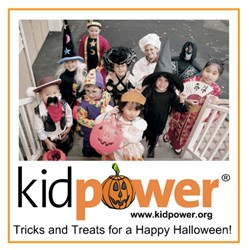 A little bit of planning ahead of time can make a huge difference in making sure that everybody has a great time.
San Francisco, CA (PRWEB) October 30, 2013
Kidpower International, a leading child safety education nonprofit, offers parents eight safety "tricks and treats" for a fun and safe Halloween. The article is available on the Kidpower.org free library of resources that help adults prepare kids for more freedom with practical safety planning and step-by-step coaching in an upbeat skills-based curriculum.
"All the wonderful things that make Halloween special and exciting can also lead to problems that might be unpleasant or even dangerous, says Irene van der Zande, Kidpower founder and author of the comprehensive guide to child protection and advocacy, The Kidpower Book For Caring Adults. "A little bit of planning ahead of time can make a huge difference in making sure that everybody has a great time."
Van der Zande published the article, "Halloween Safety — The Kidpower Way!" in the free library on Kidpower.org, with eight "tricks and treats" for parents and teachers to share and review with kids, teens, their friends and other families for enjoying Halloween safely.
The full article, including a printable (pdf) flyer to share with others, explains each of the "8 Tricks & Treats For A Safe Halloween" at http://www.kidpower.org/library/article/halloween/:
1. Stay Focused on Your Children's Needs
2. Be Aware of Costume Safety
3. Watch Out for Cars
4. Keep Cats and Dogs Inside and OUT of the Action
5. Take Extra Precautions to Avoid Getting Lost
6. Review Stranger Safety Rules
7. Avoid a Halloween Meltdown
8. Make a Plan About the Treats
"The purpose of Halloween is to have fun, not to create upset," writes van der Zande. "We want children to have a happy time, not a miserable one."
About Author Irene van der Zande and Kidpower International
Irene van der Zande has been featured as a child safety expert by USA Today, CNN, and The Wall Street Journal, is a sought-after consultant to schools and other organizations, and the primary author for Kidpower's books and personal safety training curriculum. She is the Executive Director and Founder of Kidpower International (http://www.kidpower.org), whose programs are highly recommended by experts worldwide for taking a positive, skills-based approach to preventing bullying, abuse, kidnapping and other violence. Instead of using fear to teach young people about danger, the Kidpower Method™ makes it fun to learn to be safe, building habits that increase the skills and confidence of kids, parents, teachers and other caring adults, which can last a lifetime.
Kidpower International has served more than 2.5 million people of all ages and abilities, since its founding as a nonprofit organization in 1989, offering workshops through more than 20 centers and offices around the world, evidence-based child safety curriculum for preK-12, and the Kidpower.org library of free and low-cost articles, podcasts, videos, blog posts and publications that are used by hundreds of thousands of people every year to help keep kids safe.