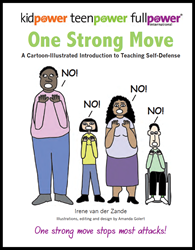 The clear lesson plans and entertaining cartoons make teaching physical self-defense to teens and adults a simple task.
San Francisco, CA (PRWEB) October 28, 2013
Teaching practical self-defense to teens and adults is easy with the new teachers' manual, "One Strong Move," from Kidpower International, a leading personal safety skills education nonprofit. 150 pages of lesson plans, with teaching tips and cartoon-illustrated teaching aids to engage students, make preparing lessons and practices easy, safe and fun for busy physical education, martial arts, and classroom teachers.
"The book focuses on building awareness skills for how to spot and get out of dangerous situations, as well as how to verbally and physically defend yourself in an attack," says author Irene van der Zande, founder and executive director of Kidpower International. "Although it's aimed at teens and adults, much of the information is also relevant for teaching middle-school aged children."
"One Strong Move is the new textbook for our practical self-defense workshops," says David Harrison MD, who says he became "acutely aware of the reality of personal violence" as an emergency physician, which is why he also has been teaching self-defense for more than a decade in Vancouver, BC. "The clear lesson plans and entertaining cartoons make teaching physical self-defense to teens and adults a simple task. This will be especially helpful in teaching martial artists and other teachers how to use the Kidpower teen and adult program to teach self-defense in their schools."
The newly released "One Strong Move" book is available on Amazon and the Kidpower.org website at http://www.kidpower.org/store/products/one-strong-move/, providing lesson plans, teaching aids and role-plays for teachers to introduce self-protection concepts and have students practice these self-defense strategies and techniques:

Awareness and target denial to avoid an assault.
Physical self-defense skills to escape from an attack.
Defense against weapons, chokes, punches, and multiple attackers.
Verbal self-defense tactics to de-escalate a confrontation.
The book also shows ways to adapt self-protection skills for people with disabilities. "There are literally thousands of self-defense techniques and ways of teaching them," writes van der Zande in the book introduction. "Our organization focuses on techniques that can be learned quickly, practiced safely, and used even if someone does not have a great deal of physical strength, coordination, or time to practice."
"This is the first book we've produced that shares our approach to teaching practical physical self-defense in a way that teachers can pick up and use right away," adds van der Zande. Since 1989, van der Zande has led Kidpower International in the development of a broad "People Safety" skills-based curriculum to help people of all ages build healthy positive relationships, prevent and stop bullying, abuse, kidnapping and other violence; by publishing low-cost and free education resources, consulting with schools, youth organizations and advocacy organizations, and conducting in-person workshops around the world that include full-force practice of self-defense skills.
"Kidpower has an exceptional track record in the field of personal safety and violence prevention," says Gavin de Becker, leading expert worldwide on the prediction and management of violence and best-selling author of The Gift of Fear and Protecting the Gift. "Kidpower helps to reduce worry by promoting confidence and personal power."
About Kidpower International
Kidpower International is a non-profit leader in child-protection, personal safety and confidence-building skills education, whose programs are highly recommended by experts worldwide for taking a positive, skills-based approach to preventing child abuse, kidnapping, bullying and other violence. Since 1989, Kidpower's in-person workshops, K-12 "People Safety" curriculum, books, videos, and the Kidpower.org free resource library have directly helped to protect more than 2.5 million young people and their adults, including those with special needs. Kidpower's founder and executive director, Irene van der Zande, has been featured as a personal safety expert by USA Today, CNN, and The Wall Street Journal. She has authored numerous books and articles about child protection, positive communication, and violence prevention, including The Kidpower Book for Caring Adults, a comprehensive guide for understanding personal safety, self-protection, confidence, and advocacy for young people; Bullying: What adults need to know and do to keep kids safe; and the Kidpower Safety Comic Series, which many schools use in their child abuse and violence prevention training programs.
Media contact: email "media (at) kidpower (dot) org" for more information or to request an interview.