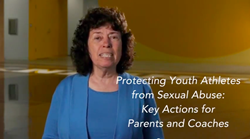 These are indispensable resources for anyone involved in youth sports, to ensure that we can protect the well-being of the youth we serve. — Joe Cummings, NSCAA CEO
San Francisco, CA (PRWEB) October 21, 2013
Kidpower International, a non-profit leader in child-protection and personal safety skills education, has partnered with national non-profit, Positive Coaching Alliance (PCA), to release a free educational video series, policy templates and other resources that adapt Kidpower's confidence-building "people safety" curriculum to help youth and high school sports coaches, parents and organizational leaders prevent sex abuse.
The resources, available at http://www.kidpower.org/youth-sports/, include brief videos with practical tips, introduced by Green Bay Packers President and CEO Mark Murphy, and have already been adopted by leading national youth sports organizations, including National Soccer Coaches Association of America (NSCAA), US Lacrosse and USA Water Polo.
Upon viewing the videos, leaders from Kidpower International partner, Hands & Voices, the largest national parent advocacy organization for families with children who are deaf or hard-of-hearing, have also committed to to working with Kidpower to create specialized "people safety" skills and abuse-prevention videos and resources addressing the needs of their families.
The new child-protection resources for youth sports organizations include:
-- Two instructional videos, the series entitled Protecting Youth Athletes from Sexual Abuse: Key Actions, each less than 10 minutes long. The first video offers key actions for parents and coaches, and the second offers key actions for leaders of youth sports organizations. Each video contains Murphy's introduction, role-plays of parent-coach interactions around suspected predatory behavior, and practical advice from Kidpower Founder and Executive Director Irene van der Zande and PCA Founder Jim Thompson. The videos play from the websites of Kidpower and PCA (http://www.positivecoach.org) and may be downloaded for future playback to groups, even without internet access.
-- A 90-second trailer video for the series featuring Murphy, van der Zande and Thompson, which can be used as a preview and to spur interest in the longer videos.
-- "Safety Tip" handouts that complement the videos, which can be distributed to parents and coaches, and a template policy for schools and youth sports organizations, titled Youth Sexual Abuse Prevention Policy and Procedures.
Creation of these new resources stems from a two-year-old partnership between Kidpower and PCA. "We wanted to highlight the actions that youth sports leaders, coaches and parents can take that really make a difference in protecting kids from predators," said Thompson. "Kidpower is the pre-eminent provider of skills education, tips, tools, advice and advocacy that keep kids safe. Irene van der Zande and her colleagues demonstrate tremendous courage and leadership in helping families face one of the most troubling issues of our time."
Added van der Zande: "Unfortunately, youth sports provide fertile ground for child predators. But PCA is working to protect kids and we are proud to help in that effort. We look forward to many more organizations adopting our resources."
Kidpower International partner, Hands & Voices, is also onboard to adopt Kidpower curriculum. "We are tremendously impressed with these videos and handouts - so much so that we want them for our families too," says Janet DesGeorges, Executive Director of Hands & Voices. "We are expanding our partnership with Kidpower to provide their child-protection expertise and adapt their program to make videos and resources we can use in the O.U.R Children's Safety Network Project, which is a national outreach and education initiative about increasing personal safety for deaf and hard-of-hearing children."
Among the PCA partners who have adopted the new Kidpower/PCA child-abuse prevention resources, National Soccer Coaches Association of America (NSCAA), US Lacrosse, and USA Water Polo, are all rolling out the resources to their constituents via their websites, showing the videos at meetings, and promoting their use in direct communications.
"NSCAA encourages every organizational leader, parent and coach to view the child-abuse prevention videos and other resources," said Joe Cummings, NSCAA's CEO. "These are indispensable resources for anyone involved in youth sports, to ensure that we can protect the well-being of the youth we serve."
"We encourage all youth lacrosse leaders to review these resources and to communicate their value with other members of the lacrosse community," said Bruce Griffin, Director of Health and Sport Safety at US Lacrosse. "US Lacrosse stands firm in its pledge that there can be no tolerance of physical or sexual abuse of children in the sport of lacrosse."
"In addition to our involvement with the United States Olympic Committee's SafeSport initiative, we urge the water polo community to use these resources," said Chris Ramsey, USA Water Polo's CEO. "The leaders, coaches and parents of our member clubs will soon be able to access the videos and other materials through our website and other USA Water Polo communications."
About Kidpower International
Kidpower International (http://www.kidpower.org) is a non-profit leader in child-protection, personal safety and confidence-building skills education, whose programs are highly recommended by experts worldwide for taking a positive, skills-based approach to preventing child abuse, kidnapping, bullying and other violence. Since 1989, Kidpower's in-person workshops, K-12 "People Safety" curriculum, books, videos, and the Kidpower.org free resource library have directly helped to protect more than 2.5 million young people and their adults, including those with special needs. Kidpower's founder and executive director, Irene van der Zande, has been featured as a personal safety expert by USA Today, CNN, and The Wall Street Journal. She has authored numerous books and articles about child protection, positive communication, and violence prevention, including The Kidpower Book for Caring Adults, a comprehensive guide for understanding personal safety, self-protection, confidence, and advocacy for young people; and Bullying: What adults need to know and do to keep kids safe; and the Kidpower Safety Comic Series, which many schools use in their child abuse and violence prevention training programs. Media contact: email "media (at) kidpower (dot) org" for more information or to request an interview.
About Positive Coaching Alliance
Since its founding within the Stanford University Athletic Department in 1998, Positive Coaching Alliance has helped develop "Better Athletes, Better People" primarily through live group workshops, online courses and books by PCA Founder Jim Thompson for youth and high school sports coaches, parents, student-athletes and school/organizational leaders. In partnership with nearly 2,000 schools and youth sports organizations nationwide, PCA has conducted more than 12,000 live group workshops and impacted more than 5 million youth. PCA has the support of elite coaches and athletes on a National Advisory Board, including National Spokesperson and 11-time NBA Champion Coach Phil Jackson.