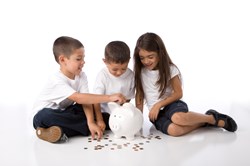 Boston, MA (PRWEB) January 23, 2014
SavingsFund is a gift-giving platform developed by the National Financial Educators Council (NFEC) that allows friends and family members to contribute to a child's college education. The newly released college savings feature provides families a flexible college planning solution by allowing them to invest the gifted money as they see fit.
Other college savings platforms require families to invest in a 529 plan. SavingsFund simply helps parents save money and provides personal finance lessons that can help them decide what the best investment is for their family. The NFEC provides financial literacy research and resources so families can ask informed questions from their trusted financial advisor.
"529 plans are not always the best way to save for college. Many private universities will penalize parents on what they saved. There are fees and other limitations that are also important to consider before investing in a 529 plan," states Ron Caruthers, College Planning Specialist and Founder of Ducerus.com.
Combining a money management for kids program with the SavingsFund platform helps families save money for their child as they increase their financial capabilities. It is the stated goal of the NFEC to give kids a financial advantage that can benefit them through their lifetime.
A recent study conducted by the NFEC demonstrated that 82% of the 509 respondents answered that families should start saving for college "when their child is born". "Most families do not start saving until it's too late," according to NFEC CEO Vince Shorb.
The U.S. Department of Education college inflation figures show that the cost of attending public school increased by 6.5% each year over the last decade. Using those inflation figures, by 2030, the total cost for a four-year degree from a public school will be over $200,000 and over $400,000 from a private institution.
The National Financial Educators Council revolutionizes the financial literacy industry by delivering unique solutions to promoting and teaching financial wellness. The NFEC's SavingsFund is widely recognized for providing comprehensive solutions to children's savings and financial education needs. The kids' savings campaign is designed to improve community outcomes and raise awareness for the financial literacy movement. The NFEC mission is to create a world where people are informed to make qualified financial decisions that improve their lives, the lives of their loved ones, and the lives of people they influence around the globe.