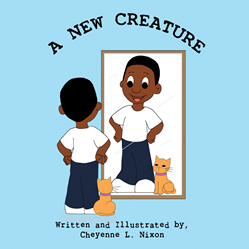 "Dear Lord Jesus, come into my heart. Forgive me of my sins and help me make a brand-new start. I truly believe you are God's Son. You died on the cross and my soul you've won. I believe you also rose on the third day. So please, Lord Jesus, come into my heart and stay."
PHILADELPHIA (PRWEB) January 13, 2020
A New Creature, a children's book authored by Cheyenne Nixon, is a short story about how transformative faith can be. Centered on a young boy who has yet to hear about Jesus, the story is a testament to the timelessness of learning Christian values. His parents teach him early on about the importance of welcoming Jesus into his heart. The boy then participates actively in their local church, preaches to his schoolmates about the Lord and studies the Bible with his parents.
Nixon teaches readers a sinner's prayer, which the father in the story shares with his son and encourages him to pray before he goes to sleep. "Dear Lord Jesus, come into my heart. Forgive me of my sins and help me make a brand-new start. I truly believe you are God's Son. You died on the cross and my soul you've won. I believe you also rose on the third day. So please, Lord Jesus, come into my heart and stay." This piques the child's curiosity about Christ, triggering the beginning of his own journey to discover and explore the meaning of faith.
While learning about God and how He shapes lives for the better, the young boy faces his biggest challenge yet—a school bully. There will always be tests of faith to overcome, and after confiding in his mother about his problem, the boy remembers Christ's teachings and to face his bully with kindness and compassion. Ultimately, Jesus' acts of unconditional love towards everyone—from random sinners in a town to His own enemies looking to arrest Him—served as an example for the child to emulate, which earned him a new friend.
Becoming a new creature begins with repentance – turning away from sin and turning to God. Similarly, to the boy's decision toward nonviolence, people in conflict must actively choose to behave in such a way that is pleasing to the Lord. Through this, despite the pain inflicted by enemies and circumstances, aspiring Christians can endure hardships, strengthen their faith, and eventually encourage others to follow Him.
Much like the piece of trash that one must learn to dispose of properly, spiritual and emotional muck that is present in someone's heart can be completely cleaned with the help of Christ. However, it will be up to the person if he or she will let Him do so. "Jesus has come into your heart and made it clean. He came right in and swept all the corners and floors. He even washed the windows…and polished the doors. He's thrown away your sins just like old junk. Our hearts smell fresh. Not like your dirty socks that stunk."