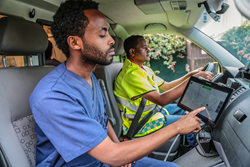 This type of leapfrog technology allows the country to skip over the outdated systems currently used in many countries, and build an entire EMS system using new technologies that are simply more efficient.
TAIPEI, Taiwan (PRWEB) November 16, 2018
This week marks the 3-year anniversary of Ethiopia's first full-circle Emergency Medical Services (EMS) system. This EMS system was launched in 2015 by Taiwan-based Health-Technology social enterprise Kiipo, in partnership with the Nordic Medical Centre, one of Ethiopia's leading hospitals. It allows Emergency Call Centre (ie.911/119) dispatchers and ambulances to immediately locate and help any person in need of assistance in Ethiopia.
A country with a population of over 107 million people, Ethiopia does not have a 911/119-type centralized EMS dispatch centre or the infrastructure in place to provide relatively quick emergency services. In a country where street names are limited, it becomes nearly impossible to accurately describe the location of an emergency. Along with unreliable infrastructure, including frequent power outages, road closures, and cellular data network outages, it would be impossible to simply import an EMS system from another nation into this fluctuating environment.
However, this bleak outlook has been able to start shifting in recent years. In 2015, Kiipo Co-founders Chris Peng and Jordan Masys teamed up with Nordic Medical Centre (NMC) to launch Ethiopia's first full-circle EMS system serving a pilot group of under 10,000 residents in Addis Ababa. The system is, in addition, the world's first full-circle EMS system using cloud-based location technology. "This system enables anyone with a mobile phone to be located regardless if the often-fluctuating cellular data (3G/4G) network is down, while also connecting users, dispatchers, ambulances, and hospitals via various specified Apps and modules," said Chris Peng, Co-founder, Kiipo. "The EMS system was specifically designed to continuously adapt itself to Ethiopia's unique infrastructure challenges."
"With time playing a critical role in any emergency response, having the ability to be immediately located could be the difference between life and death," said Dr. Kjell Kiplesund, CEO, NMC, who in 2018 was awarded Norway's Royal Order of Merit by H.M. King Harald of Norway for his outstanding contributions to improving health services in Ethiopia. With no EMS system previously in place in Ethiopia, "this type of leapfrog technology allows the country to skip over the outdated systems currently used in many countries, and build an entire EMS system using new technologies that are simply more efficient," said Jordan Masys, Co-founder, Kiipo.
To accompany the system, Kiipo and NMC also created localized operational protocols and launched a training team (comprised of EMS operations experts, paramedics, etc) that provides the necessary training for staff utilizing the system.
NMC and Kiipo are currently looking to expand this life-saving system within Ethiopia. "We dream of providing Ethiopia, from rural to urban communities, the capability to establish their own Emergency Medical Services," Jordan Masys said. Kiipo is looking to help establish an official National EMS capability, aiming to expand the service to the entire greater Addis Ababa region (~9 million people), with the goal to provide all 107 million Ethiopians access to emergency medical services in the near future.
About Kiipo
Based in Taipei, Kiipo is a health-technology company that is founded on the principle that everyone has a fundamental right to a healthy life. They bridge the gap between cutting-edge medical breakthroughs and people, striving to make the most advanced health technology available to everyone in the world. Their current ecosystem of services includes projects to increase access to emergency care, tools to increase the quality of care, and research and development initiatives to facilitate scientific breakthroughs. Learn more at https://www.kiipo.com.
About Nordic Medical Centre
Based in Addis Ababa, Ethiopia, NMC is known as one of Ethiopia's leading hospitals. Established in 2012 by Norway's Nordic Clinic Foundation, NMC's inception is rooted in making a positive health impact beyond the walls of the facility. All proceeds from the medical services provided at NMC are used to make critical healthcare accessible to the less privileged as well as to strengthen the pool of human resources for health in Ethiopia by actively supporting and providing higher medical education. Learn more at https://www.nordicmedicalcentre.com.
Media Contact:
Jessica Ianniciello
hello(at)kiipo.com
(+886) 2365-1164
Related links:
http://www.kiipo.com/ethiopia.html