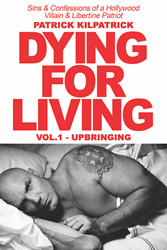 You won't want to put this memoir down
HOLLYWOOD, Calif. (PRWEB) August 01, 2019
Patrick Kilpatrick embarks on a "DYING FOR LIVING" book signing tour throughout the Rocky Mountain and Great Plains regions.
Writer/actor/producer/director/global entertainment teacher and quintessential Hollywood villain Kilpatrick is appearing in person, at an upcoming series of high-profile book signings for his acclaimed memoir of 30 years as an action cinema icon. DYING FOR LIVING: Sins & Confessions of a Hollywood Villain & Libertine Patriot Vol. 1 – Upbringing has received 100% Five Star reviews, a Best of LA Award and been lauded by celebs, critics, journalists and readers alike.
The literary appearances will be coupled with languorously epic fly-fishing floats in late August/early September at prestigious river locales throughout Colorado and Montana.
Kilpatrick plunges his literate gleaming Excalibur deep to the molten cystic core of worldwide Hollywood. DYING FOR LIVING has been called a risqué-embedded career tell-all unparalleled in humor, breadth & candor. Kilpatrick is a flag-waving, philandering moralist on the gilded hallucinogenic road to perfect love, a 21st century Casanova with a boundless cache of Cialis, motorcycles, romantic poignancy & supreme craft. Toxic masculinity with a twist of lime & more than a splash of phallic exuberance.
Speaking on his fascination and admiration for the Great Wild West, "I dig those muscular trout, local rodeos, breath taking scenery and bold 200-mile cobalt blue skies, the sprawling diversity of AMERICAN SOUL population, alternative apocalyptic meth colonies, the vestigial corporate mining/lumber greed … only in the high western region! You have to love places where you look DOWN on tumultuous storms as you putter along fairy tale landscapes. Periodically I need a real sense of the what/why Native Americans and European settlers brutally butchered, battled, betrayed and enslaved each other", says Kilpatrick, the vet of 180 hit films and TV shows and Broadway, West End of London – from Spielberg's MINORITY REPORT to 24, James Cameron's DARK ANGEL to the largest production in PBS history, ROANOAK to Shakespeare under Academy Award winning director Tony Richardson at Los Angeles Theater Center.
Kilpatrick is currently appearing in theaters, stores and NETFLIX in AMERICAN VIOLENCE and ASSASSIN X, COPS AND ROBBERS with UFC Light Heavyweight Champion Quentin Rampage Jackson, and BLACK WATER with Jean-Claude Van Damme and Dolph Lundgren. Upcoming is CATALYST and NIGHT WALK filmed in Casablanca, Morocco. NIGHT WALK recently premiered at the Moscow International Film Festival with Kilpatrick receiving rave reviews. Currently in post-production as director, producer and lead in the feature film ACTIVE SHOOTER and as director/producer/actor of LADY PIRATES! and NAKED WARRIORS in pre-production. He is also in pre-production for BURNOFF as co-director/writer/producer and star.
The list of upcoming speaking events for the Rocky Mountain & Great Plains Fly Fishing & Book Signing Expedition, include:
August 24, 2019
LIVINGSTON, MONTANA - Elk River Books
Date: Saturday, August 24, 2019
Time: 12 Noon to 2:00 pm
Event: Presentation & Book Signing
Location:Elk River Books, 120 N. Main St., Livingston, MT 59047
Web: http://www.elkriverbooks.com
August 26, 2019
ASPEN, COLORADO - Explore Booksellers
Date: Monday, August 26, 2019
Time: 5:30 pm to 7:00 pm
Event: Presentation & Book Signing
Location: Explore Booksellers, 221 East Main Street, Aspen, CO 81611
Web: http://www.explorebooksellers.com
August 28, 2019
DENVER, COLORADO - Tattered Cover Book Store
Date: Wednesday, August 28, 2019
Time: 7:00 pm
Event: Presentation & Book Signing
Location: Tattered Cover Book Store Historic LoDo, 1628 16th Street, Denver, CO 80202
Web: http://www.tatteredcover.com
September 2, 2019 (in conjunction with the Telluride Film Festival)
TELLURIDE, COLORADO - Between the Covers Bookstore
Date: Monday, Sept 2, 2019
Time: 11:30 am
Event: Presentation & Book Signing
Location: Between the Covers Bookstore, 224 West Colorado Ave, Telluride, CO 81435
Web: http://www.between-the-covers.com
The guided fly fishing will be carried out throughout the region on non-signing days deploying select local guides and boats. A winning book purchaser at each book signing will be drawn to have the opportunity to accompany the Hollywood action legend as a fishing companion.
Portions of all book sales are donated to DVA – Disabled Veterans of America – a 100 year serving vet charity for which Kilpatrick is Centennial Ambassador with Tinsel Town luminaries Vince Vaugh and Jon Voight.
DYING FOR LIVING: Sins & Confessions of a Hollywood Villain & Libertine Patriot Vol. 1 – Upbringing was launched 2018 at the National Press Club and Kennedy Center for Performing Arts in Washington D.C. and is currently available in hardcover, paperback, kindle and audio version. Next in a series, DYING FOR LIVING: Wasted Talent in the Valley of Debacle Vol. 2 – Showbiz is set for publication Christmas 2019.
For further details contact Lori De Waal & Associates (818) 817-4444/ Lori.dewaal@dewaalpr.com or Uncommon Dialogue Films, Inc. (323) 252-8702/ Kilpatrick203@gmail.com.