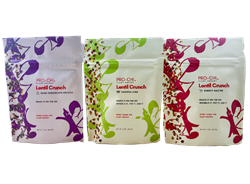 "We are thrilled to work with Whole Foods and broaden our reach to connect with healthy-minded individuals looking for new innovative plant-based products,"
RICHMOND, Va. (PRWEB) January 28, 2020
Kim Baker Foods expands the distribution of its flagship product Pro-Chi™ Lentil Crunch to Whole Foods Market. Pro-Chi™ is a healthy plant-based snack and protein topper that adds texture, flavor and nutrition to other foods such as salads, smoothie bowls, pasta, yogurt, baked goods, and more. The product uses organic, sprouted lentils to maximize nutrient bio-availability and roasts them to create delicious crunch.  Pro-Chi is gluten/grain-free with 7 grams of protein per serving and is available in three flavors in both single serve and 4 oz. packages.
Pro-Chi will be available in its first Whole Foods location this week with the grand opening of Whole Foods Market's new West Broad Street location in Richmond, Virginia on January 30, 2020. This expansion builds on the company's continued momentum and creates an opportunity to reach a broader set of customers.
"We are thrilled to work with Whole Foods and are grateful for the chance to further connect with healthy-minded individuals looking for new innovative plant-based products," said Kim Baker, founder of Kim Baker Foods. "Pro-Chi represents the ways that food can energize our lives and is a celebration of our vitality."  
Founder Kim Baker studied at the Institute of Culinary Education (ICE) in New York and was featured on the TODAY show for her cookbook "Working It in the Kitchen: Food for the Workweek". 
Kim Baker Foods (http://www.kimbakerfoods.com) provides products and services to inspire healthy living and nourish positivity. Pro-Chi is a unique plant-protein snack that makes clean eating fun and accessible. Pro-Chi is sold nationwide on the company's website and at select retail locations. Since its founding in 2004, the company has used its passion for food to support various charities and organizations including Feedmore and Cycle for Survival, among others.
Visit the company on Instagram and Facebook at @kimbakerfoods and @prochiplantenergy.
#kimbakerfoods #ilovelentils #feedyourchi