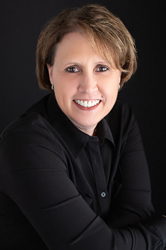 "When we look at awards, we never totally recognize all the people that support us. So getting this award is a tribute to the folks who work for us— our partners, our vendors and our subcontractors. I want to share that recognition with them because it really is a team effort."
OSWEGO, Ill. (PRWEB) July 28, 2020
Kimberly Warren, president and CEO of Pilot Services, Inc. in Oswego, was one of 19 suburban business leaders who received the Daily Herald Business Ledger's C-Suite 2020 Awards. A virtual award webcast was held on July 23.
The publication's C-Suite Awards honor C-level executives for the leadership, business and civic contributions they have made to their organizations and to the suburban Chicago community. Eligible candidates must work for a business or organization in the suburban Chicago region: DuPage County, Kane County / Fox Valley, suburban Cook County, Will County, McHenry County and Lake County.
Warren is an experienced, serial entrepreneur in the telecommunications and IT/networking sectors. At Pilot Services, she encourages her team to continuously look for ways to add value to client relationships. Most recently, Pilot expanded its service offering to include solutions to help businesses get back to work through thermographic imaging and Ultraviolet light decontamination.
Additionally, Warren is also a managing partner in Invest in Us Ventures, LLC which works with women-owned businesses to help them expand their operations and build equity, and has also served as an as an angel investor and partner to many businesses.
"It's certainly an honor to be recognized with so many other CEOs and C-suite folks out there," Warren said. "Sometimes, especially during times like the pandemic, we are all probably working twice as hard as we ever had to and adapting to the new roles and environment that we're faced with. This period has made CEOS like myself to be vigilant and take on different types of leadership roles."
She added: "When we look at awards, we never totally recognize all the people that support us. So getting this award is a tribute to the folks who work for us— our partners, our vendors and our subcontractors. I want to share that recognition with them because it really is a team effort."
For more information, visit http://www.pilotservicesinc.com and https://pilotaiscan.com/.
About Pilot Services, Inc.
Pilot Services, Inc. is a certified WBE, IT services and data recovery firm, which was launched as a pilot program with AT&T to offer IP, services in 1988. Today, the company offers managed services, network installation, cabling, and cloud computing services with a team of more than 2,500 technicians monitoring thousands of clients from their two locations near Chicago and Tucson. They specialize in servicing healthcare facilities. Visit Pilot Services, Inc. at http://www.pilotservicesinc.com. # # #