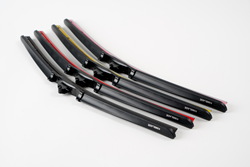 "The traditional wiper blade has many flaws. It creates loud and unpleasant sounds, lacks effective cleaning performance and is replaced every few months. KIMBLADE offers a revolutionary wiper blade that is noise-free, effective for cleaning and long-lasting." CEO and Founder Kevin Kim
NEWPORT BEACH, Calif. (PRWEB) September 20, 2018
KIMBLADE, Inc. launches KIMBLADE on Kickstarter to raise funding for mass production.
KIMBLADE, unlike the traditional wiper blade, is made with a 4-bar linkage structure to produce the most optimal cleaning performance. Because ordinary blades are made of rubber and are shaped like inverted triangles, they are frequently replaced and impractical for cleaning purposes. KIMBLADE features a rectangular shaped structure that ensures that the downward force is always concentrated on the edge of the wiper blade to maximize clear visibility on the road. Its dual silicone material promotes water repellency and durability for long usage. KIMBLADE is a beneficial tool that is suitable for all weather conditions.
"The traditional wiper blade has many flaws. It creates loud and unpleasant sounds, lacks effective cleaning performance and is replaced every few months. KIMBLADE offers a revolutionary wiper blade that is noise-free, effective for cleaning and long-lasting." CEO and Founder Kevin Kim
KIMBLADE's features include:

Rectangular Blade: Strong performance with 4-bar link structure
Water Repellency: Permanent wiper blade protection when in use
Durability: Stable against UV rays and ozone from quality silicone material
Pre-order of KIMBLADE will be available through the product's Kickstarter page (http://kck.st/2Nok9l0), and it is a consumer-ready product with positive reviews. During the campaign, KIMBLADE can be purchased for $44 USD as the Super Early Bird price, $46 USD as the Early Bird price and $48 USD as the Regular price. When the campaign funding goal is achieved, the company anticipates manufacturing and delivery to be complete in January of 2019.
About KIMBLADE, Inc.
KIMBLADE is a California-based startup committed to developing advanced automotive wiper blades. KIMBLADE is made of a team of experts and engineers with a goal to ensure driving safety in various weather conditions. The products are designed and developed in Newport Beach, California and are manufactured in Seoul, Korea. More information can be found on their website: http://www.kimblade.com.