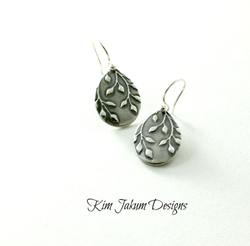 Whether adorning Dr. Temperance Brennan on Bones, Bonnie Bennett on The Vampire Diaries or Victoria Newman on The Young and the Restless, Kim's jewelry designs are always strong yet feminine.
Elkhart Lake, Wisconsin (PRWEB) December 18, 2014
Kim Jakum (http://www.KimJakumDesigns.etsy.com), known for her exquisitely handcrafted fine silver jewelry designs, has had her Falling Leaves Dangle Earrings worn by Emily Deschanel (as Dr. Temperance Brennan) in episode 1009 of Bones. The episode aired December 4, 2014 on FOX. The earrings are worn by Dr. Brennan ("Bones") throughout the first half of the episode.
The wardrobe stylists for Bones selected the handcrafted Falling Leaves Earrings for use after receiving them in a Stylist Gift Bag from The Artisan Group®. The Artisan Group is a California-based arts promotion and celebrity gifting organization, of which Kim is a member.
Kim hand-fabricated the earrings out of fine silver and oxidized them to darken the recessed areas. She then hand-polished the raised leaves to create sparkling highlights. The earrings measure a little under one inch long and have sterling silver ear wires. Never one to leave the back of a piece unadorned, Kim has included a surprise on the back of each earring in the form of small, raised butterfly motif.
The designer says she selected the earrings to submit for consideration of use on Bones because they are feminine yet strong, just like Dr. Brennan. "The process I use to create my jewelry designs transforms soft, pliable fine silver Precious Metal Clay into a finished piece of jewelry that is beautiful and strong enough to withstand anything; just as Dr. Brennan's character and personality have been forged and strengthened by her life challenges."
The Falling Leaves earrings are available exclusively at Kim Jakum Designs.etsy.com and retail for $45.00.
This is not the first time Kim's jewelry has been worn on television. Kat Graham (as Bonnie Bennett) wore Kim's Almandine and Silver Talisman Necklace on episodes 413, 414 and 415 of The Vampire Diaries. Amelia Heinle (as Victoria Newman) wore Kim's Victoria Earrings on episodes 9960, 9961 and 9962 of The Young and The Restless.
Kim has had her jewelry designs gifted at GBK's Luxury Gift Lounge for the 2013 Primetime Emmys and the Official Talent Gift Lounge for the 46th Annual CMA Award. Parent's Magazine, Metal Clay Today, Metal Clay Artist and Art Jewelry Magazine have recognized her work, as have numerous blogs, including coolmompicks.com and online marketplace uncommongoods.com.
Kim has been creating and designing jewelry for over 20 years. Her mission is transforming bits and pieces of life into everlasting keepsakes. She is both a maker and a teacher and has studied with well-known jewelry artists including Tim McCreight, Terry Kovalcik, Celie Fago and Wanaree Tanner.
Journalists who would like to reach out to Kim can do so using the Email button at the right-hand side of this press release.
Kim Jakum Designs jewelry is available online at http://www.KimJakumDesigns.etsy.com and http://www.metalmorphis.etsy.com.
ABOUT KIM JAKUM DESIGNS
Kim Jakum (http://www.kimjakumdesigns.etsy.com) of Elkhart Lake, Wisconsin creates handcrafted, custom, personalized jewelry using fine silver Precious Metal Clay and other materials.
Kim has received numerous awards for her jewelry designs and has been featured in Metal Clay Artist Magazine, Art Jewelry Magazine, Lakefront Magazine and on coolmompicks.com and uncommongoods.com. Kim is a proud member of The Artisan Group®.