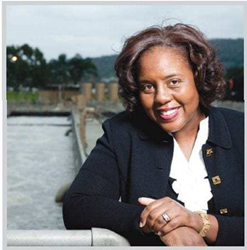 LOS ANGELES (PRWEB) May 06, 2019
Acclaimed author of "Authenticity, Accountability & Ambitions: Speaking the Truth Through a Black Woman's Eyes (AAA)," and Civil Rights activist, Kimlin Charise Johnson was recently named as one of 50 Phenomenal Black Women in the Field of STEM. The award is being given to Kimlin by the Los Angeles Council of Black Professional Engineers (LACBPE) on May 10, 2019 at their 50 year awards and scholarship banquet (http://www.lablackengineers.org).
Kimlin Johnson has been a project engineer at the Los Angeles County Sanitation District (http://www.lacsd.org) in Environmental Engineering for over 23 years. In 2017, she started her own non-profit called the B-RELYT Organization (http://www.b-relyt.org) to help undeserved youth go into the STEM field. In 2018, Kimlin published her first book, entitled "Authenticity, Accountability & Ambitions (AAA)," with the ultimate goal of making America better. All of this was done while still working full-time at the LACSD, having a husband and two children.
"One of my engineering mentors, Monique Hunter, nominated me for this honor," explains Johnson, "Being a Black female Engineer in the industry, each honoree shares similar struggles with different journeys," states Johnson." "I'm so honored and elated to be receiving this award. I hope that I can inspire others to chase their dreams and goals. Nothing's impossible."
For more information about Johnson's new book, please visit her website at: http://www.kimlinjohnson.com. Part history, part memoir and part self-help, AAA is designed to enlighten its readers on racism and ridicule in the 21st Century, years after the monumental Civil Rights movement.
"AAA is a call to action, but more importantly, it seeks to encourage readers toward the need for Authenticity, Accountability & Ambitions to start positive change among all Americans," Johnson concludes, "the book also features a myriad of ways that Americans can empower each other and themselves by sitting in the truth." Kimlin started the AAA book tour entitled "Let's Start the Dialogue" January 2019, to book her for corporate or college events please contact: kimlin_fb(at)icloud.com