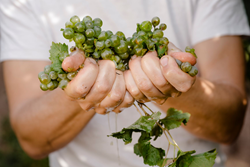 We want people to think of organic wine as food," Jordan Sager Co-Founder Kind of Wild
HEALDSBURG, Calif. (PRWEB) February 23, 2021
Kind of Wild is a new collection of global wine discoveries sourced from organic growers devoted to rewilding the planet. The DTC E-Commerce platform that will debut 6 distinctive wines made from organic grapes officially launched its crowd-funding campaign on IndieGoGo today. Kind of Wild was founded by Adam and Jordan Sager, brothers, bringing decades of combined experience from their family-owned wine import company Winesellers, Ltd.
Kind of Wild's focus is to work with growers devoted to maintaining soil health and promoting soil regeneration, which is a positive solution for the climate crisis as healthy, living soils have a proven ability to sequester legacy carbons. It is an enormous win - kinder to the planet, leading to more choice in quality wines that are kindly sourced and kinder to the consumer.
What will Kind of Wild Offer?

Kind of Wild aims to introduce consumers to an experience of high quality and affordable wines made from organic grapes from exciting growing regions around the world. All wines are produced and labeled under the brand name Kind of Wild.
The subscription (Club Wild) will offer 6 wines from 6 different countries and rotate seasonally to replace existing selections with new discoveries (1 Rose, 2 Whites, 3 Reds). A-la-carte bottle sales will be available as well.
Club Wild will have no membership fees and can be cancelled anytime with-out penalty.
Kind of Wild will offer multiple options for consumers to tailor their wine subscription based on their likes and needs: 3 Bottle Option/ 6 Bottle Option / 12 Bottle Option (2 x 6), reds only, whites/rose only, etc.
Retail will start at $22 per bottle and have discounts for subscribers based on number of bottles purchased. Free shipping will be offered to subscribers on shipments of 6 bottles or more.
Each label will have its own unique, original illustration that will explore the positive association of humanity and nature. The imagery creates visual disruption and promotes a thought-provoking and kind-hearted response.
Kind of Wild is committed to offering wines that are vegan suitable. Addition-ally, all materials and dry goods have been selected based on eco-friendly criteria and minimizing impact.
Kind of Wild is partnering with two environmental foundations devoted to important missions – Kiss the Ground and Organic Farming Research Foundation.
No less than 1% of revenue will be donated to the environmental partner foundations. The Kind of Wild platform has a feature for consumers to also donate at checkout.
Kind of Wild will be available for pre-ordering via an IndieGoGo campaign with the release and ship date in early April.
Visit Kind of Wild Wine's IndieGoGo page to support and pre-order, meet the creators, learn more about the foundations and the wines that will change the way consumers support our future through their wine purchases.
Kind of Wild Wines
Kind of Wild is a new DTC (direct-to-consumer) wine brand made from organic grapes with a custom e-commerce retail platform developed by Adam & Jordan Sager, brothers from Winesellers, Ltd., a forty-two-year-old wine importing and marketing company.
Shipments will initially be available to the following states, with the intention of more to follow: AZ, CA, CO, DC, FL, GA, IL, MA, MD, MI, MN, MO, NC, NH, NV, NY, OH, OR, PA, SC, TN, TX, VA, WA.