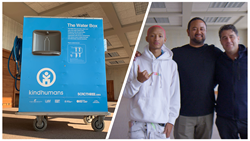 ENCINITAS, Calif. (PRWEB) December 19, 2019
Newly-formed organization Kindhumans, founded by former GoPro executive Justin Wilkenfeld and his wife Suzi, announces a dynamic partnership with Jaden Smith's 501cTHREE to provide a Water Box to residents of Flint, Michigan—supplying clean drinking water, and a more affordable and sustainable solution than plastic water bottles, in the face of the ongoing crisis.
Kindhumans is designed to be a global community for all things kind, healthy and sustainable. As the young for-profit organization evolves, it has begun to realize its vision to become a sustainable online marketplace and a media company that celebrates the good in humanity by sharing cause stories with the world, raising awareness and building support and funding for these efforts. Its second short-form documentary of this kind features the introduction and engineering of the Water Box—a portable water filtration unit that filters ten gallons of water per minute located at the Sylvester Broome Empowerment Village (SBEV), a community and youth development center in the heart of Flint.
Kindhumans' partnership with 501cTHREE includes financial and promotional support for the effort in Flint. "We were thrilled to partner with the passionate team at Kindhumans," said Jaden Smith, co-founder of 501cTHREE. "Justin and Suzi genuinely place humanity's best interest as the driving force behind all they do."
Kindhumans' collective donations helped to make the addition of a third Water Box in Flint possible, and its commitment to ongoing donations will keep it in commission while also helping to eliminate single-use plastic bottles. The first two Water Boxes were funded by Jaden Smith, on behalf of 501cTHREE and The Ellen Degeneres Show. Plans for additional Water Boxes with support from Jada Smith and Apple are slated for 2020.
"My time at GoPro opened my eyes to the increasing need to celebrate the best of humanity and the cool things people are doing every day beyond just sports and adventure," said Justin, Kindhumans CEO. "At Kindhumans we're simply facilitating and encouraging people to live their best lives while making choices that promote, protect and provide for the future of the planet and success of generations to come. Our ongoing support of the Water Box, and the content we created, will propel us towards our goal to feature stories about amazing humans while raising awareness and increasing much-needed donations to make an even greater impact in the world."
Help Flint residents by donating five-gallon water jugs that can be refilled at Water Box locations and find additional ways to support 501cTHREE and other Kindhumans organizations at Kindhumans.com.
About Kindhumans
Kindhumans is on a mission to unite and grow the community of kind humans around the world. We strive to build a platform that celebrates and cultivates a culture of kindness, promotes conscious consumption and always gives back to programs for kids, our planet and humanitarian causes. Founded by a team of industry veterans from top entertainment, consumer product and lifestyle brands, Kindhumans is building a trusted platform that will include enriching content, education, donations to non-profit organizations, and a marketplace for sustainable, socially responsible products, so we can all make the world a kinder place through our day-to-day purchases.
Kindhumans launched its "Kindness. Pass it on." campaign with a goal of raising $1M for causes through its duration. With proceeds from this campaign and their growing online sustainable marketplace, the young company has donated to the National Forest Foundation, Leave No Trace, Rob Machado Foundation, Protect Our Winters, GoPro for a Cause, Farmer's Footprint, The Redford Center, Stoked.org, Changing Tides Foundation, Jump for Joy, High Fives Foundation and more. The company is Climate Neutral Certified, part of 1% for the Planet, committing one percent of its sales to various causes. Join the "Kindness. Pass it on." campaign at kindhumans.com and follow us on Instagram and Facebook.