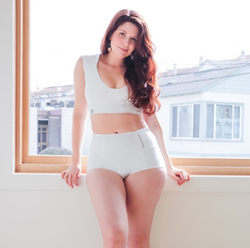 We push ourselves to the limits, working long hours, leaning over laptops and devices, commuting, and raising families. The trade-off is our health.
PLEASANTON, Calif. (PRWEB) March 05, 2019
Kinflyte™ is a new apparel brand that is reinventing intimates and activewear as posture supportive essentials. Created by women for women, the San Francisco Bay area startup introduces a three-piece Freedom Essentials Capsule, featuring a bra, built-in bra top, and high rise underwear, on Indiegogo today with a $25,000 funding goal. Kinflyte debuts its innovative apparel line just ahead of International Women's Day, celebrated on March 8th in recognition of all women.
The Kinflyte Essentials Capsule promotes improved musculoskeletal alignment with support for the back, shoulders, and front. These everyday essentials are made of technical performance knits and have a system of hidden compression panels that gently cue one's shoulders to roll back and alleviates pressure on the back, while wirelessly lifting the bust. Designed to fit the contours of the body like second skin, the three-piece capsule has a signature design and hidden panels, finished with reinforced stitching. The hidden panels conceal the complexity of the pattern-making, with minimal visible seams.
The Freedom Bra is a wireless posture bra that lifts and sculpts in the front, while the Unity V-Top is a bra top that has the posture support of the Freedom Bra with coverage extending to lower back and stomach. Both the bra and top come with removable bra pad inserts to give women more options on how to wear. The smoothing hi-rise Ally Underwear is designed to flatter any waistline while providing postural support for lower back. The essentials are made of breathable, soft fabrics, making them a versatile choice for wearing in any number of activities: at home, office, gym, or out on the town. Kinflyte essentials are retro-future inspired designs, influenced by intimate wear of the art deco period, necklines from 1,600 year-old Korean hanbok dresses, and sci-fi film classics.
Back pain is the #1 chronic issue resulting in annual costs of over $100 Billion, according to the World Health Organization (WHO). Having good posture is not only about projecting confidence, it is foundational to wellbeing.
"We push ourselves to the limits, working long hours, leaning over laptops and devices, commuting, and raising families. The trade-off is our health," said Vivian Lee, Founder and CEO of Kinflyte. "That's why I founded Kinflyte - to solve what's missing in the most important clothes we wear. I co-invented the patent-pending system working with my design partner, Michelle Rose. Throughout the development process, I consulted with women professionals across wellness-related disciplines in physical therapy, sports medicine, martial arts, pilates, yoga, and dance."
Based on recent reports, 80 percent of U.S. women have worn ill-fitting bras. Common complaints include discomfort, as well as back and shoulder strain, compounded by bra straps that dig in or slide off, and a lack of support. The average US woman wears a 34DD bra, and in the UK, the average is 36DD. The weight of a woman's chest carries through to the shoulders and back, which can contribute to chronic pain. Size inclusivity is a key part of Kinflyte's ethos.
The Freedom Essentials Capsule is available in both a dual-layered compressive knit for higher level support, or a jersey knit for medium level support. The lightweight jersey knit is made from post-consumer recycled plastic bottles (rPET). All versions of the essentials have high-performance properties: moisture-wicking, anti-microbial, anti-odor, with UPF50 UV protection. All essentials have hidden stash pockets for when you need them.
Backers who pre-order Kinflyte essentials during the Indiegogo campaign will be able to choose their sizes after they pledge, via a guided size chart. Sizes range from XS to 3XL, translating band sizes 32 to 46, and cup sizes A through G. Color options are future white and noir black.
The Freedom Essentials Capsule is now available for pre-order on Indiegogo. A limited number of early bird packages are available for launch: $169 for the three-piece set, which is 45 percent off MSRP. For more information or to pre-order, please visit http://pr.go2.fund/kinflyte.
About KinflyteTM
Kinflyte creates active everyday essentials re-engineered with purpose. The apparel is designed in California and developed in Oregon. Through the patent-pending Kinflyte Posture SystemTM, Kinflyte creates bras and modern essentials that promote better posture, and deliver comfort and support.
Kinflyte founder and CEO Vivian Lee invented the patent-pending design, together with apparel design partner Michelle Rose. Lee consulted with experts across fitness and wellness disciplines to create the posture wear essentials. The team behind Kinflyte's launch include Diane Lee, former strategist at design firm IDEO, Elizabeth LeMay, president of innovation lab Studio 317, and Rene Burgos, creative director for Kinflyte.
For more information, visit the Kinflyte website, and follow them on Instagram, Facebook, Twitter, and YouTube.