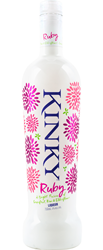 "KINKY Ruby embodies the natural balance between fruit, sweetness and refreshment. It's important to our KINKY consumers to stay on trend, so if grapefruit and elderflower are what they want, that's what we will deliver!"
MENDOTA HEIGHTS, Minn. (PRWEB) April 09, 2019
KINKY® Beverages is pleased to announce the release of the newest addition to their flirty liqueur lineup – KINKY Ruby – a bright fusion of grapefruit, kiwi and elderflower flavors and super-premium vodka.
Inspired by radiant summer days, KINKY Ruby is here to deliver the perfect accessory to your next vibrant adventure. Infused with delicate yet intriguing flavors, KINKY Ruby is delicious on its own or mixed with vodka, tequila or sparkling wine.
No matter how you get KINKY, Ruby encourages you to flirt with the extraordinary.
"KINKY Ruby embodies the natural balance between fruit, sweetness and refreshment. It's important to our KINKY consumers to stay on trend, so if grapefruit and elderflower are what they want, that's what we will deliver!" ~ Kelly Tomek, KINKY Beverages Brand Manager
KINKY Ruby is available nationwide May 1st, with an SRP of $19.99.
ABOUT KINKY® BEVERAGES
Prestige Beverage Group launched KINKY Pink Liqueur in 2011 and since then has experienced continued success and growth - becoming one of the Top Ten Liqueur Brands* in the U.S. KINKY Beverages has added several fabulous friends to its flirty lineup including Aloha, Blue, Red and Green Liqueurs, KINKY Vodka, KINKY Cocktails and X. Available at major retailers and on-premise accounts nationwide, KINKY is owned by Prestige Beverage Group and is distributed by wholesalers throughout the country. For more Information about KINKY Beverages and exciting KINKY recipes, please visit us on Facebook, Instagram, Twitter, Pinterest or at our website, http://www.kinkybeverages.com.
ABOUT PRESTIGE BEVERAGE GROUP
Founded in 1974, Prestige Beverage Group is comprised of award-winning wines, spirits and beer from around the world. From product development to packaging design and state-of-the-art marketing materials, Prestige Beverage Group, located in Mendota Heights, MN, continues to be an industry leader.
http://www.prestigebevgroup.com
If you would like any additional information or hi-res images, please don't hesitate to reach out.
*Impact Databank ©2018