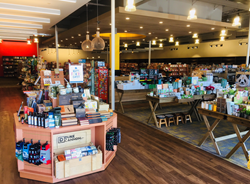 Books, cartoon anime, characters, speciality goods
AUSTIN, Texas (PRWEB) August 16, 2018
Kinokuniya Book Stores of America Co., Ltd. opened their latest store in Austin, Texas in May, 2018 at 6929 Airport Boulevard, Suite 121, Austin, TX 78752. The Austin store is the third in Texas, following two stores that opened in the Carrollton and Plano suburbs of Dallas in 2017.
Austin is the 12th USA location and the 30th overseas. Until now, Kinokuniya Book Stores of America has carried a wide selection of Japanese books ranging from manga, art, fashion, and literature. While the Austin store maintains this direction, it also contains a more sophisticated assortment of items including but not limited to superior quality Japanese stationery, and Kinokuniya exclusive items in collaboration with popular Japanese brands ranging from Studio Ghibli to Animate.
As a new concept in America, Kinokuniya Austin is replicating a Japanese classroom inside the store. Through this fragment of Japanese daily life, Kinokuniya aims to become a meeting place for people and to learn Japanese culture through various events and community activities such as Japanese language classes.
Kinokuniya's Manager, Mr. Shigekazu Watanabe strives to make the new store the central hub of Japanese culture in the Austin metropolitan area. It's a cozy meeting place in which new communities are formed through a variety of cultural exchanges.
Grand Opening Saturday, August 18, 2018 from 12:00 PM - 9:00 PM includes indoor and outdoor events, rain or shine.
Day One from 12pm - 9pm
Outdoor Events
12:00pm - Grand Opening Ceremony includes speeches by the Consul General of Japan, Council Member Jimmy Flanagan, Marina Bhargava, CEO of Greater Austin Asian Chamber of Commerce, and Elise Krentzel of Austin-Oita Sister City Committee. Emcee Greg Ciotti of KOOP-FM Radio 91.7 will be on site.
1:00pm - DJ Phauxkis
3:00pm - 35mm (Band)
5:00pm - Peelander Z (Band)
Exhibits
1:00p- 6:00p - Texas Sake Pouring
2:00p- 6:00p - J Muzcaz - Live Painting
Indoor Events
1:00pm - J Muzcaz - (Artist) Q&A + Signing
1:00pm - Tillie Walden - Live Painting/Drawing
2:00pm - Powerhouse Animation - Q&A + Signing
3:30pm - Stephanie Rattanachane - Q&A + Signing
4:00pm - Tillie Walden - (Graphic Novelist) Q&A + Signing
5:00pm - Sarah Bird - (Author) Q&A + Signing
7:00pm - Sho (Ukulele Solo)
https://usa.kinokuniya.com/event-calendar/2018/8/18/austin-grand-opening-event
Grand Opening Sunday, August 19, 2018 from 12:00 PM - 8:00 PM
Come to celebrate the Grand Opening of our Austin store with voice actors from My Hero Academia, Justin Briner (Deku) and Clifford Chapin (Bakugo) We'll also welcome a special appearance by Rooster Teeth's Fan Service, Miles Luna, Kerry Shawcross, Yssa Badiola, and Cole Gallian with Lindsay Jones! Join us as the Rooster Teeth's Fan Service group talk about the popular anime My Hero Academia followed by a special My Hero Academia trivia challenge, a Q&A, and signing session with Justin and Clifford! MHA goods will also be available for purchase!
Day Two from 12pm - 8pm
Indoors
12:00pm - 12:30pm – Miles Luna and Kerry Shawcross Signing
12:30pm – 1:00pm – Lindsay Jones Signing
1:00pm – 1:30pm – Yssa Badiola and Cole Gallian Signing
2:00pm – 3:00pm – Rooster Teeth Presents Fan Service Live
3:00pm - Justin and Clifford - (Scriptwriters) Q&A
4:00pm - My Hero Academia Trivia
5:00pm - Justin and Clifford - Book Signing
6:00pm - J-Fashion Show
6:30pm - 8:00pm - Cosplay Contest
https://usa.kinokuniya.com/event-calendar/2018/8/18/austin-grand-opening-event
https://www.facebook.com/events/2121868724732965/
https://twitter.com/KinokuniyaUSA?ref_src=twsrc%5Egoogle%7Ctwcamp%5Eserp%7Ctwgr%5Eauthor