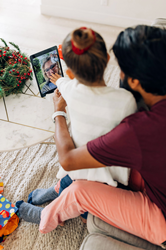 SAN FRANCISCO (PRWEB) November 15, 2021
Kinoo® announces today that it has been named a CES® 2022 Innovation Awards Honoree for its all-new video communication system, which revolutionizes video chat using augmented reality and expert-developed collaborative activities to connect remote family members for play and learning. The announcement was made ahead of CES 2022, the world's most influential technology event, happening Jan. 5-8 in Las Vegas, NV and online.
The CES Innovation Awards program, owned and produced by the Consumer Technology Association (CTA)®, is an annual competition honoring outstanding design and engineering in 27 consumer technology product categories. Those with the highest rating receive the "Best of Innovation'' distinction. An elite panel of industry expert judges reviewed submissions based on innovation, engineering and functionality, aesthetic and design. This year's CES Innovation Awards program received a record number of over 1,800 submissions, making Kinoo's distinction an even greater honor.
This nod for Kinoo comes on the heels of the product having been named the winner of the top prize at the fourth annual AARP Innovation Lab's Grand Pitch Finale. The labs' mission is to engage early stage startups and help them identify opportunities to enrich the lives of those 50 and older. Kinoo beat out four other startups in a Shark Tank-like competition in which members of an online audience viewed the event and chose the winner through an app on their phones.
Kinoo is a groundbreaking tool for fostering child development while nurturing precious relationships with older loved ones. Its patented technology, accessed via an IOS app and a patented controller wand, allows remote users to feel like they are in the same room as they play collaboratively in shared activities, learning and growing together. Whether it's a joint adventure to outer space, reading a story or virtually baking cookies together, Kinoo transforms video chats into memorable moments of immersive play.
The company behind the Kinoo system was co-founded by Jim Marggraff, creator of the transformational, award-winning LeapPad® Learning System, Mark Schlictling and Barbara Chase, award-winning authors and researchers on children's interactive play and game design, as well as technology experts and entrepreneurs David Stiehr and Jonathon Nostrant. While Kinoo was in development prior to the COVID-19 pandemic, the resulting cultural shifts and evolving family needs have further solidified its relevance.
"Following times of isolation, not only do we as a society have newfound appreciation for social interaction, but we've become more aware of the critical role technology can play in vital human connection," said Jim Marggraff, co-founder and CEO of Kinoo. "The Kinoo app and controller wand create new ways for children to learn and bond with remote loved ones through fresh, stimulating play patterns. Grandparents can more frequently and easily play their critical role in family development, and parents can feel the support of a larger, more integrated family. With Kinoo, family just got a whole lot closer."
The CES 2022 Innovation Awards honorees, including product descriptions and photos, can be found at CES.tech/innovation. Many honorees, including Kinoo, will showcase their winning products in the Innovation Awards Showcase at CES 2022. Kinoo's Early Edition Bundle, the company's first product release which includes its patented Kinoo Controller Wand and a one-year free subscription to the Kinoo app, is available for purchase at kinoo.com
Owned and produced by CTA, CES 2022, the global stage for innovation, will convene the tech industry in person and digitally, giving global audiences access to major brands and startups, as well as the world's most-influential leaders and industry advocates. Visit CES.tech for all CES 2022 updates, including health protocols and registration.
About Kinoo
Kinoo® is a pioneering, activity-based video communication system that helps families feel closer when they are far apart. Kinoo's purpose-built collaborative activities connect older and younger loved ones, promote child development, and keep grandparents actively involved in kids' lives. Built on a foundation of video chat enhanced with augmented reality, Kinoo empowers older loved ones to not just connect with the kids in their lives, but to interact in playful moments, shared exploration, and collaborative projects for play and learning. Kodii and Kidoo, adorable, animated characters who spring to life during calls, help by providing mentoring, tips and ideas, redefining the standard video conversation and promoting intergenerational connection and emotional well-being. The hand held, motion- sensing Kinoo Controller™ Wand can also be leveraged to bring the fun off the screen, allowing a child to enhance the virtual experience through physical play. Co-founded by grandparents and parents who are educators, entrepreneurs and tech experts, Kinoo is innovatively designed to enhance human connectedness. To learn more about Kinoo and its mission to create the best possible future for our children, our families, and our world, visit http://www.kinoo.family.