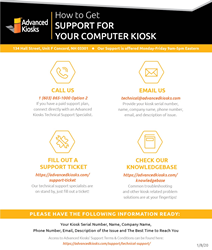 "A lot goes into creating systems to handle technical support for self-service kiosks, There need to be procedures to escalate issues if needed. All this needs to be done in real-time so we can get our arms around the problem and get the problem fixed fast."
CONCORD, N.H. (PRWEB) March 03, 2020
Advanced Kiosks ("AK") - the U.S. based self-service kiosk company - will be adding 24-hour 7-days a week technical support at the end of March 2020. AK tech support will cover support for kiosk hardware and their Kiosk Management Software, ZAMOK®. Advanced Kiosks has repeatedly differentiated itself by bringing levels of support to the market that no one else offers.
In 2018, Advanced Kiosks started the Kiosk Rescue Program for organizations that are having problems with kiosks that they did not buy from Advanced Kiosks. In 2019, the Kiosk Refresh program was rolled out which has helped many companies overcome their kiosk operating system, Windows 7, coming to its end of life. Now Advanced Kiosks is bringing support 24 hours a day, 7 days a week for any customers that have kiosk software or hardware problems.
"A lot goes into creating systems to handle technical support for self-service kiosks," says Nathan Morse, Operations Manager at Advanced Kiosks. "Every support case needs to be tracked so you need a case management system. There needs to be procedures to escalate issues if needed. We need to be able to remotely connect into the kiosks computer to troubleshoot problems. The kiosk's model, options and unique configuration need to be available to the support crew. All this needs to be done in real-time so we can get our arms around the problem and get the problem fixed fast."
Advanced Kiosks now gives customers many ways to connect to Technical Support. There is a support tab on the website's main menu. Anyone can start a support ticket, send an email, call the support line, search product documentation or search the extensive Self-Service Kiosk knowledge base.
The Self-Service Kiosk knowledge base has over 100 articles on everything from common issues with kiosk touch screens to FAQ's on what thermal paper to buy. New articles are added as needed to help customers solve any problems that come up.
About Advanced Kiosks:
Advanced Kiosks – one of the largest kiosk manufacturers in the ever-growing self-service kiosk market – is located in Concord, NH and has its tech doors open 24-7 for not only its own customers but the owners of computer kiosks from any kiosk manufacturer.
For more details about kiosk support programs, visit the link below!
https://advancedkiosks.com/
Contact information:
For more information about this article contact marketing@advancedkiosks.com or call Advanced Kiosks at +1-603-865-1000. For technical support questions or further details about 24-7 kiosk software and hardware support, use the number above and select option #2.