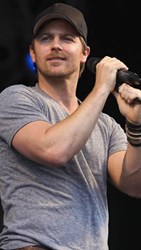 (PRWEB) November 03, 2013
For those Kip Moore and country fans out there, put your hands together for his first tour as a headliner. Moore has performed before with others like Toby Keith and Eric Church, but this time he'll be going at it on his own. Moore will kick off his "Burn the Whole World Down" tour on November 15th in Jacksonville, Florida. The name is very fitting, as his tour begins at the end of the year, and as Moore would say, they are going to go down in flames.
The country star, who is famous for his well known songs like "Hey Pretty Girl" and "Beer Money", was actually supposed to on the road these last few months of 2013 as the opening act for Lady Antebellum and their "Take Me Downtown", but it was postponed until January 2014. With the free time, Moore announced his very own tour. Looks like everything works out for a reason.
Country music fans interested in seeing Moore perform in his own concerts can visit http://www.Ticketmonster.com. The following is a short list of the locations of his first few shows:
11/15 – Jacksonville, Fla. – Mavericks Rock N' Honky Tonk
11/16 – Tampa, Fla. – The Dallas Bull
11/21 – New Orleans, La. – Civic Theater
11/22 – Baton Rouge, La. – Texas Club
11/23 – Mobile, Ala. – Soul Kitchen Music Hall
12/4 – Oxford, Ohio – Brick Street Bar
Fans of Lady A are unfortunately going to have to wait to see the famous country group perform live. Although missing out on the tour, fans can be happy for Hilary Scott, for she gave birth to her daughter this summer. Due to the wait, changes to the tour will be made to give fans the best experience possible. The tour will now accommodate the release of the deluxe version of their most recent album. This album, called "Golden", will be released on November 12th. It will include their latest single, "Compass".
Lady Antebellum's tour will still feature Kip Moore, so he is going to be having a busy year! Their tour will also include new star Kacy Musgraves as an opening act. Their tour will include more than 60 performance dates, so visit Ticket Monster to purchase a ticket to one today! Fans that bought tickets for concerts will still be honored at the rescheduled dates. Lady A's concert will kick off on January 10th, 2014 at the Peoria Civic Center in Peoria, IL. It will then make its way to Ohio, Virginia, North Dakota, Colorado, Utah, Pennsylvania, and more, giving fans all over the country a chance to see the group. Ticket Monster has Lady Antebellum tickets, as well as other concert tickets for sale. http://www.Ticketmonster.com has schedules of all the concerts fans want to see, of all genres. The site also has an easy check out system, making the purchasing experience simple and fun. It also has a social media hub for music enthusiasts to share their love with each other.