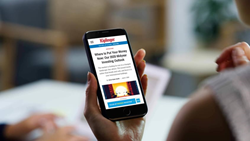 Kiplinger.com attracts more than 6 million unique visits and 30 million page views per month.
WASHINGTON (PRWEB) June 24, 2020
Kiplinger.com, a leading personal finance website that reaches more than 6 million users monthly, has relaunched its website on a new platform with a cutting-edge new design. The updated site is not only sleek and attractive, but is also easier to navigate with a "mobile-first" approach.
Featuring enhanced navigation, the new site's layout makes it easier for readers to find content that is interesting and relevant. Clean, light pages mean the site loads more quickly, and navigating around the site is faster than ever.
The majority of Kiplinger.com's visitors now view the site on cell phones and other mobile devices (unheard of when the site was launched in 1996). The new redesign capitalizes on this change in usage and traffic patterns, and ensures Kiplinger.com efficiently serves mobile users.
Robert Long, general manager of Kiplinger.com, said, "Our goal was to make sure the new Kiplinger.com reflects much more than just a cosmetic makeover. We effectively started with a blank sheet of paper and made the new site clearer, more attractive, and easier to get around. Readers will find lots of technical improvements, but more important, we've added even more content to help our readers navigate the complex world of personal finance with confidence and ease."
Denise Elliott, CEO of Kiplinger, said, "The new Kiplinger.com will benefit all of our audiences. Consumers seeking guidance on important personal finance matters such as investing, retirement and economic forecasting will have a better experience, and that will benefit our advertisers. I could not be prouder of the team and all the hard work that went into creating this best-in-class experience. Kiplinger.com has always been a great site for consumers and advertisers alike. It is even better now for both!"
Kiplinger.com attracts more than 6 million unique visits and 30 million page views per month, and is an integral part of the Kiplinger line of products for consumers and business. The new site went live on Tuesday, June 23, and can be found at http://www.kiplinger.com.
The Kiplinger Washington Editors, Inc., founded in 1923, is a Washington, D.C.-based publisher of business forecasts and personal finance advice, available in digital, print, and audio formats. The best known publications are The Kiplinger Letter, a weekly business and economic forecasting periodical, and the monthly Kiplinger's Personal Finance magazine. Those and others add to a total paid circulation of more than 850,000. Kiplinger's popular Your Money's Worth podcast provides timely personal finance insight weekly.
The Kiplinger Washington Editors, Inc., is part of the Dennis Publishing Ltd. Group.