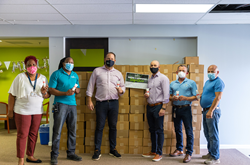 POMPANO BEACH, Fla. (PRWEB) February 24, 2021
Kira Labs Inc, manufacturer of beauty innovations with a global reach selling in over 100 countries, donated to local non-profit, Meals on Wheels.
"We were thrilled when KiraLabs reached out to Meals on Wheels South Florida offering hand sanitizer for our 500 volunteers and our more than 10,000 homebound clients. This hand sanitizer is the best I have seen over the past year, and I have seen a LOT of hand sanitizer. Our clients and volunteers will be so happy knowing we and Kira Labs are thinking about keeping them safe and healthy," said Mark Adler, Executive Director https://www.mowsoflo.org/donate
The company wants to continue giving back by donating locally and nationally to organizations in need. The giveaway of 10,000 units of Medyskin hand sanitizers is part of Kira Labs' generous donation of 1 million tubes.
All Medyskin hand sanitizers were produced at the Kira Labs' FDA registered manufacturing facility in Pompano Beach and made with high-grade purified alcohol. The sanitizers use at least 70% alcohol which exceeds the 60 percent minimum recommended amount per Centers for Disease Control and Prevention guidelines.
Interested organizations may fill out a donation form at http://www.kiralabs.com/donations to request a minimum of 2,500 and up to a maximum of 20,000 sanitizer tubes.
About Kira Labs Inc
Kira Labs was founded in 2003 and has grown into a leading marketer and manufacturer of beauty innovations featured in 10,000+ stores. Appealing design, value and high quality, functional formulas characterize all of the Kira Labs brands, which feature products in multiple categories including Face, Hair, Body, Men's, Natural, Home and Pet. For more information, please visit http://www.kiralabs.com.
About Meals on Wheels South Florida
Meals on Wheels South Florida is a private nonprofit organization providing hunger-relief services since 1984. With the dedication of nearly 500 volunteers, Meals on Wheels South Florida delivers nutritious meals, friendly visits and safety checks that enable South Florida seniors to live nourished lives with independence and dignity. Meals on Wheels South Florida serves more than 10,000 seniors and 5,000 children an estimated 1.5 million meals each year. Included in their comprehensive list of programs and services are home meal delivery, community-based dining, meals for companion pets, grocery shopping assistance, nutrition education and emergency meals. For more information, please call 954.731.8770 or visit mowsoflo.org