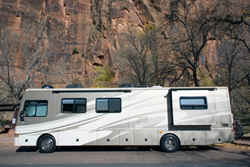 Everett, WA (PRWEB) April 30, 2014
Kirkland RV, a new and used RV dealer in the Greater Seattle area, has professional expertise and recommendations regarding camping and travel. In a recent article, they list several reasons why they believe RV adventures outshine traditional tent camping every time.
For information on purchasing a new or used RV, go to http://www.kirklandrvsales.com.
The article begins by pointing out the drastic difference in the quality of shelter. Not only is an RV safer and better equipped to handle rough or wild weather during travel, it is also able to provide heat and air conditioning. This is especially important for those sensitive to temperature changes, such as the elderly or young children. The article also glibly points out that marauding night creatures have a difficult time entering an RV, while a tent, on the other hand, presents little barrier.
In addition to offering better protection, the article reminds us that tents are not designed for comfort or convenience. Sleeping on a mattress may alleviate the worst of the sleeping trouble as it elevates campers from contact with the sticks and stones on the ground, but a full size mattress and warm comforter are suggested as the more preferable sleeping option.
Finally, the article reminds readers of the distinctly unpleasant midnight tramp through the campground to get to a bathroom, as a tent is unable to provide any facilities. RVs, on the other hand, usually have a bathroom, stove, microwave and refrigerator—a full set of amenities to make the camping adventure a little bit less work, and a little more relaxation.
About Kirkland RV:
Individuals that are eager to get started on preparing for the rapidly approaching camping season can review Kirkland RV's available models by viewing their listings. Kirkland RV Sales offers a variety of RVs, including Class A's, Class C's, and Fifth Wheels. Their branch in Everett is acclaimed for its high-quality customer service and satisfaction.
13111 Highway 99
Everett WA 98204
Phone: (866) 710-0064
Fax: (425) 710-0504