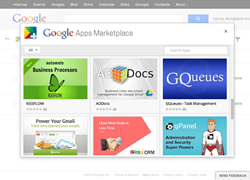 Mountain View, California (PRWEB) November 21, 2013
OrangeScape today announced that its flagship product KiSSFLOW is amongst the first few products to be available from the new Google Apps Marketplace experience. The team behind KiSSFLOW had been working closely with the Google Apps Marketplace team to ensure a seamless experience for end users who would want to install 3rd party apps like KiSSFLOW using the new interface.
KiSSFLOW is the #1 workflow App in the Google Apps Marketplace and is leveraged by 5000+ organizations. Dinesh Varadharajan, who heads the KiSSFLOW product team said, "With the launch of this new version of the Marketplace, the experience is improving for the end customers. As one of the top ISVs in the Google Apps ecosystem OrangeScape shares the vision in making the ecosystem unified, simple & rich for the end users. These improvements are a big step in that direction."
Security also gets a makeover in this update to the marketplace where the industry standard OAuth2 for authentication will be used as default. KiSSFLOW customers get much more in this move to new marketplace. Users will no longer need to authenticate access individually if the domain administrator had already granted access to KiSSFLOW leading to an overall smooth login process for the end users.
Along with this launch, KiSSFLOW will also be releasing a native mobile version of the KiSSFLOW App for the android mobile users who can install it from the Google Play Store. KiSSFLOW team is also working on the iOS version for iPhone and iPad users that is slated to be release by the next quarter.
About KiSSFLOW & OrangeScape
KiSSFLOW is the #1 workflow app in Google Apps Marketplace leveraged by 5000+ Google Apps enabled organizations. KiSSFLOW is the only product that is deeply integrated with Google apps. Using KiSSFLOW, businesses process owners in various departments like IT, Finance, Administration, Human Resources can easily create approval workflows in a few simple steps. KiSSFLOW offers the best price performance advantage in its category at $3/user/month. KiSSFLOW runs on Google's cloud infrastructure thereby providing the Google scale and security to its customers. KiSSFLOW is a product of OrangeScape which maintains offices in Mountain View, Calif. and Chennai, India. More information about KiSSFLOW is available at http://www.kissflow.com.